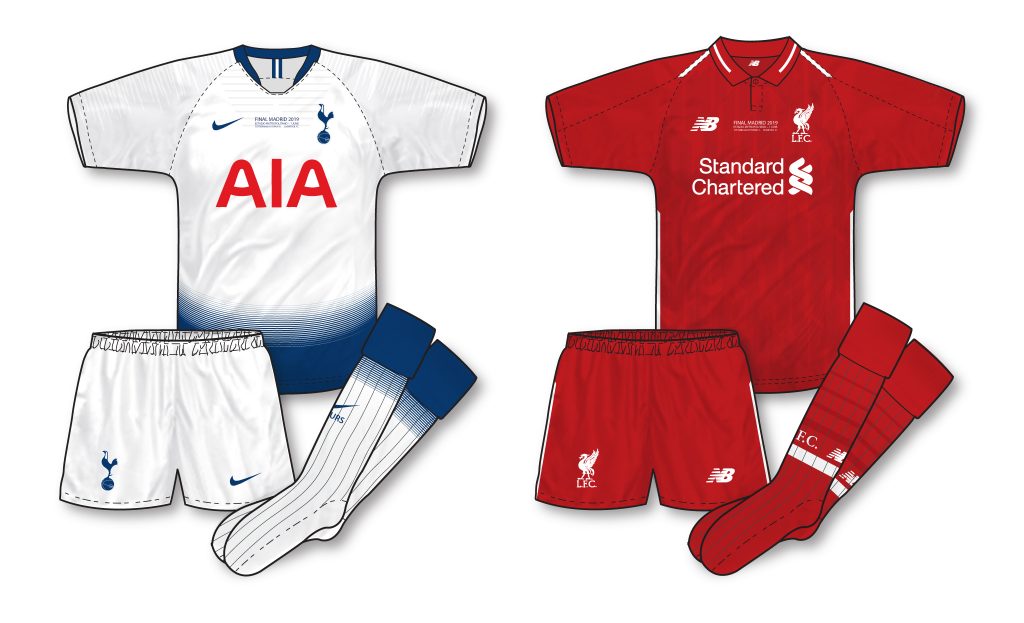 The 2019 Champions League Final sees both teams in their familiar 2018-19 shirts (UEFA rules state that participating clubs must declare their strips for the tournament at its start and cannot change unless there is a major switch in sponsor). So it's last knockings for the Liverpool shirt and presumably also the Spurs jersey unless it appears in any forthcoming friendlies.
Both shirts feature, as has become the norm, identical matchday embroidery in the centre of the shirt:

FINAL MADRID 2019
ESTADIO METROPOLITANO – 1 JUNE
TOTTENHAM HOTSPUR FC VS LIVERPOOL FC
The biggest talking point I guess is that Spurs are wearing white shorts…not that this will be any surprise to any Spurs fans as the all-white combo is the club's preferred European strip. However judging by the views expressed on social media the navy fading effect on the Nike shirt just doesn't work when it sits alongside white shorts as opposed to the regular navy. Although I like this effect that aims to blend the shirt and shorts together (see also Man United's 18-19 kit) it does jar when change shorts are worn.

Only change to the Liverpool kit is the omission of the Western Union sleeve logo due to UEFA sponsorship regulations.