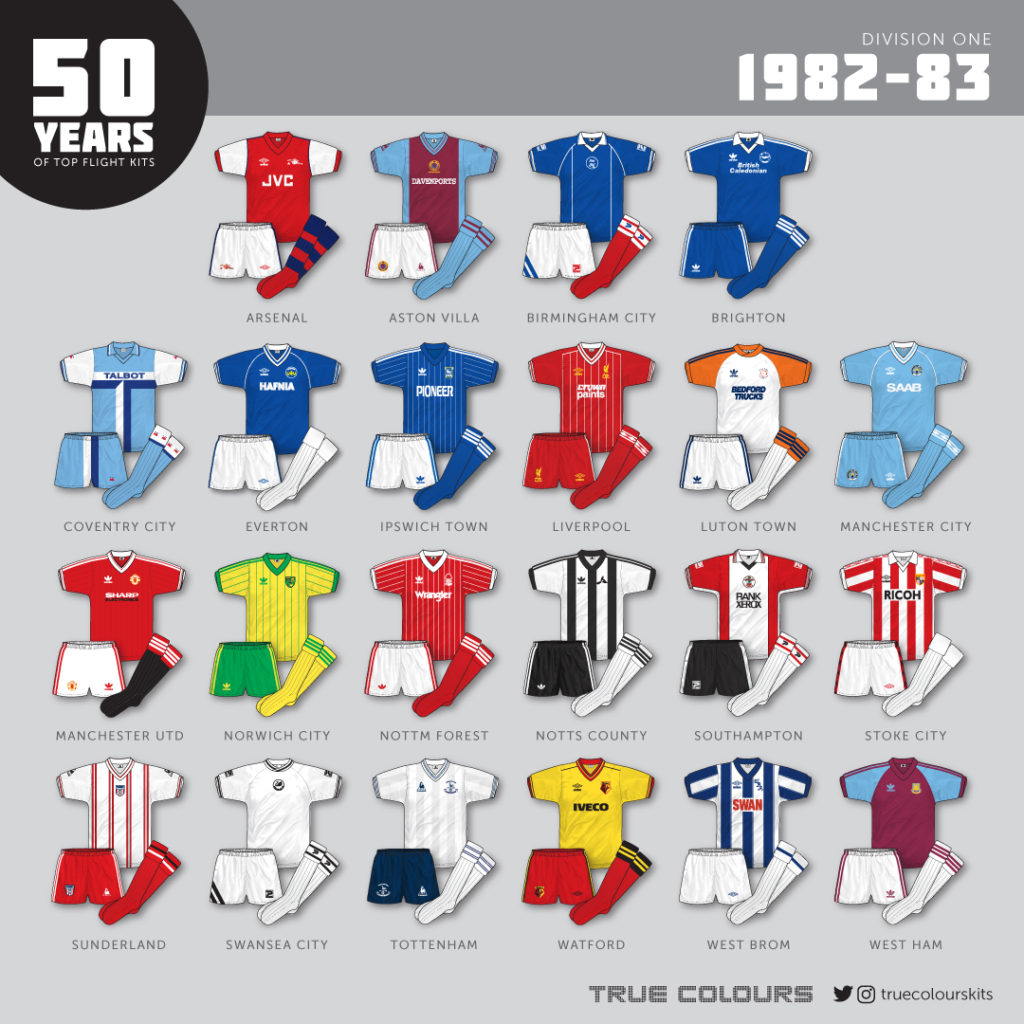 A good mix of kits this year with new arrivals to Division 1 Luton, Norwich and Watford all bringing with them some fine looking outfits.
Only seven clubs were without shirt sponsors in this final season of the TV ban on sponsored shirts. Another of the 80s classic football kit decoration – the shadow stripe – appeared courtesy of Le Coq Sportif and Tottenham. Created by a new weave technology shadow stripes brought a very subtle and sophisticated look to kits without compromising colour integrity.
Adidas overtook Umbro for the first time in total number of sides kitted out in the top flight. I believe, but can't be sure, that this could well have been the first season since their formation that Umbro didn't top the kit manufacturers tally in the First Division.
The manufacturers tally this season was:
Adidas – 8
Umbro – 7
Le Coq Sportif – 3
Patrick – 3
Talbot Sports (Coventry) – 1
Arsenal – A brand new design, seeing an end to the classic Gunners crew necked strip. Umbro opted for a self-coloured v-neck and reintroduced hooped socks. Navy became a key part of the club kit for the first time in many years.
Aston Villa – No change apart from the arrival of Davenports as club sponsor.
Birmingham City – A radical switch to Patrick with a smart new kit including white piping and centrally placed badge. Perhaps rather curiously a collar was retained on the new shirt.
Brighton & Hove Albion – No change.
Coventry City – No change.
Everton – In this final season with Umbro, Everton went for a sleek new design that followed the lead of Man City's from the previous year. The club wore the standard single stripe side trim on the shorts.
Ipswich Town – No change.
Liverpool – A new Liverpool kit for the first time since 1976 found the Reds caving into modern trends and decorate their strip with white pinstripes and white shoulder piping. New sponsors Crown Paints, were also present on the great looking strip.
Manchester City – No change apart from the addition of car firm Saab as sponsors. Their logo was originally rendered in black before switching to a more aesthetically pleasing white.
Manchester United – A big change for the Red Devils brought with it a neat multi-trimmed v-neck and suave shadow pinstripes. Iconic sponsors Sharp, also appeared on the shirt for the first time and included a sub headline of 'Electronics'.
Norwich City – No change for the Canaries pinstriped adidas shirt in their flexible 'La Paz' template. However, the shorts had now lost their yellow side panels and reverted to a pretty standard three-stripe trim.
Nottingham Forest – No change apart from a switch in sponsor from Panasonic to clothing company Wranglers.
Notts County – No change.
Southampton – No change.
Stoke City – No change – the 5th year of this classic Umbro design.
Sunderland – No change.
Swansea City – No change.
Tottenham Hotspur – A groundbreaking strip from Le Coq Sportif, complete with shadow stripes on both shirt AND shorts and 'centenary' text above the club badge. A superb design!
Watford – The Hornets sported a brand new outfit this season, including multi trimmed v-neck and cuffs and discrete black shoulder piping.
West Bromwich Albion – A stripped back and fairly basic design including a simple navy v-neck and cuffs. Main concession to modernity was the addition of pinstripes on either side of each navy stripe. The club also had a new sponsor, Swan.
West Ham United – No change.
Liverpool claimed the title again this year with newly promoted Watford an impressive second. Manchester City, Swansea City and Brighton and Hove Albion all dropped down to Division 2.