On a recent visit to Sven's excellent www.footballshirtculture.com site I was very interested to see what appears to be the 08-10 Liverpool home shirt. Its certainly a good looking adidas design and in my opinion one of the best the club have worn for many years, but one aspect of it made my heart sink a little.
Firstly, I must lay my cards on the table. If you've read a little more about me elsewhere on the site you will see that I am a Liverpool fan of old. I guess I stopped following them fanatically in my teens when I felt a bit of a fraud supporting a team I seldom saw play and that were not my local side. So although I no longer shed a tear when they lose, theirs is always the first result I look out for on a Saturday at 4.45 (older fans pre-Sky will know what I mean here!)
OK, that's that out of the way. My work studying football shirt history over the years has led me to several conclusions: clubs have always changed their kit on a regular basis, some third strips are unnecessary (!), if you're wearing a good looking kit it can have an influence on the pitch and that a change of sponsor/manufacturer/design CAN improve a club's fortunes.
One of the other revelations I have also uncovered concerns Liverpool's apparent inability to win the league title – an achievement that has escaped them for almost 20 years! Sure there have been several notable cup wins along the way, but not the elusive honour that confirms a club are simply the best in the land. The reason for this 'failure' in my view is not down to an aged team that has not been updated/refreshed (as was often the argument post-Dalglish) and its not down to any rotation systems. No, in my opinion the failure is, in part at least, down to the Liverpool crest that appears on the hallowed red (and sometimes white, yellow, green or black) shirt.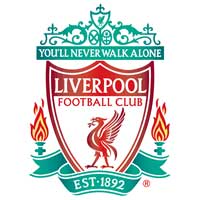 I'm sure you're all familiar with the current rather elaborate shirt crest which has gone through several minor cosmetic changes since it was initially introduced in the 92-93 season. Liverpool last won the title in 89-90 when the club shirt (which at the time was the infamous paint splattered affair, but don't let that dilute my argument!) featured a simple Liver Bird surrounded by a relatively simple and traditional crest that had replaced the classic icon of the Liver Bird standing alone above a base of 'L.F.C.' in 1987. Strong, direct, dynamic and to the point, with the club's symbol or identity instantly recognisable and on view clearly and simply.
This identity is now hidden and diluted within a couple of shields, the Shankly gates (emblazoned with the 'You'll Never Walk Alone' legend and second minature version of the Liver Bird badge), and the Hillsborough eternal flames all wrapped up with a hefty dose of scrolls. Of course I fully appreciate the significance of the flames and that is something, I believe, must not be ignored. But I do think the current badge is too wrapped up and lost in the past and the mythology of the club. It is not the crest of a forward-thinking and dynamic club. The strength of Liverpool FC has been its football and its identity – familiar and recognisable and perfectly epitomised by the peak teams of the 70s and 80s that were led and accompanied by the strong Liver Bird logo on their chests – it symbolised the team and the way they played football, the club and the city. It also instilled fear into the opposition.
Design trends come in circles and now many clubs are switching to streamlined and powerful badge designs to adorn their shirts. These badges enhance the brand identity of the clubs in question by being clearly recognisable – even when viewed at a small size in a newspaper, magazine or at the match itself. They also lend themselves easily to being rendered in virtually any colour combination. I think its time for the cumbersome and intricate badge to be phased out.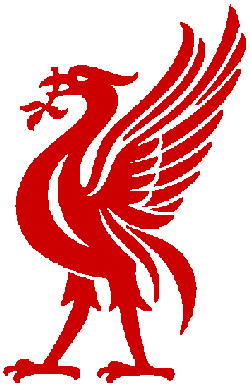 A large faction of Reds fans have been campaigning for a return of the iconic Liver Bird badge and occasionally pre-season fake shirts appear with it in place, but sadly it has yet to make a return. It does still re-appear in a part-time capacity though when the club are playing in a major cup final. Eagle eyed supporters will remember that it appeared in yellow (alongside the regular club badge and Reebok logo), slap bang in the middle of the shirts worn in the glorious Champions League final against AC Milan in 2005.
Cup wins aside, is it a coincidence that the club has not won what is rapidly becoming its 'Holy Grail' – the league title – with the elaborate crest spearheading the club on their jerseys? Don't get me wrong, nothing would make me happier than for the club to clinch the title next season in this splendid new adidas jersey complete with the current badge but I believe a change is needed.
Obviously a badge/crest can't win matches on its own but as a graphic designer and football shirt historian I believe it can inspire and influence and perhaps thats what the club needs right now.