Despite many people's negative responses to the forthcoming 08-09 kits, I think some great designs have emerged. Two of my favourites; Arsenal and Liverpool's new away kits, are both heavily influenced by strips worn by the teams in the late 80s. The end of that decade was not necessarily a golden era for football. Interest in the game had waned somewhat throughout the period and the tragedys of Hillsborough and Heysel had cast a shadow over the sport in general. Fans did not return to the terraces in their droves until after Italia 90 where a Gazza-inspired England side rejuvenated the game. There was still high drama in the sport during this era however, none more so than Arsenal's incredible win over Liverpool to win the 88–89 title.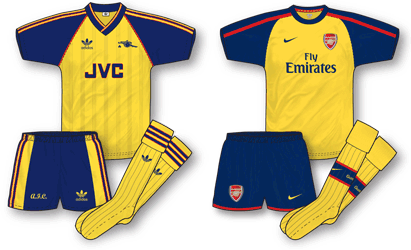 The Arsenal 08-09 away kit is a real gem and is based on the classic strip worn that fateful evening at Anfield when the Gunners clinched a last gasp Division 1 title thanks to Mickey Thomas' late goal. Nike have done a great job in reviving the design, changing it just enough to make it contemporary and unmistakably theirs. Its accompanied by a brilliant ad poster as well. I love seeing teams in traditional away colours and although for many the definitive Arsenal away colour scheme is yellow and royal blue, for me this yellow/navy/ red palette is 100% Arsenal thanks to George Graham's late 80s side.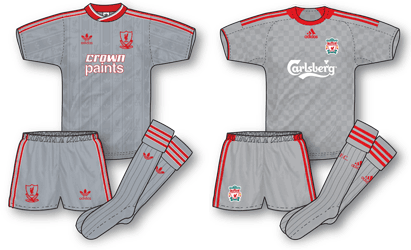 Anyone who has read TRUE COLOURS will probably pick up on the fact that I am no fan of grey away kits. Having said that I do really like the new adidas Liverpool away which revives the club's 'grey' period of 87-91 which, coincidentally occured during adidas' first tenure at Anfield. It is the first time since then that the club have worn a grey kit and it really seems to work with the red livening up the strip well. The shirt, which follows a basic template introduced in Euro 2008 features a subtle chequerboard pattern – a theme introduced across all Liverpool kits this season.