How many times have you trudged off a five-a-side pitch in tattered and mis-matched shirt and shorts after being soundly beaten thinking that if only you had a top notch kit your team would play much better?
I know when I was playing football regularly in the late 80s/early 90s I would often pick up the latest Umbro catalogue from my local sports shop and try and persuade my team mates to club together and purchase the latest trendy strip. I spent hours working out which shirts would work best with which shorts and in which colour scheme. All to no avail, my chums were more interested in saving their money for records and beer and so sadly week in, week out we took to the pitch in a rag tag combination of various old replica shirts and fading shorts.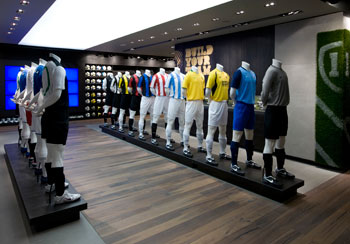 Now however, Nike offer the facility to select, design and customise your team's very own kit in the Boot Room, housed within their Niketown Oxford Street flagship store and part of the Nike iD personalisation initative that the company have recently instigated. Customised boots have been offered by Nike for some time now, with bespoke sizing, colours, styles, materials and graphics able to be selected and combined, with the help of Nike iD design consultants, to create your own personal footwear. But now this ability to customise sportswear has been extended to the company's football kit range.
When Nike very kindly recently invited me along to produce my very own special True Colours shirt I was momentarily transported back to Monday night five-a-sides – my 20 year old dream was coming true! So, with this thought in mind I set off to the bright lights of Oxford Street a couple of weeks ago to find out what the Boot Room was all about…
The Boot Room is, put simply, a glorious temple to football apparel – a vision in stylish wood panelling and glass, illuminated by carefully designed lighting and containing the power for you to put your mark on a Nike piece of kit. The boot section itself features row upon row of boot 'shells' ready for complete customisation and personalisation. Next door to this is the area I was interested in – 'Build Your Team Kit' – and a little further on, the retail section selling a wide range of Nike replica shirts.
I was greeted by rows of mannequins sporting the full range of Nike teamwear jerseys that can be chosen for your final design. Along the walls sat rows of elegant, yet mysterious closed, drawers – no doubt packed with shirts, shorts and socks, giving the impression of a sportswear equivalent of a Saville Row high class tailors.
I was greeted by Conrad who was to be my guide through the Nike kit design experience. We sat at a Mac workstation and set to work, slightly intimidated by the fact that I had the power to create and design my own Nike kit at my fingertips. First step, the jersey.
Via a slick front-end interface a choice of the various Nike teamwear shirts appears. Many will be recognisable to anyone with a remote interest in kit design, and jerseys as worn by Fulham, Aberdeen and Southend Utd etc are presented in a variety of colourways alongside other established designs based on older strips worn by Celtic and Arsenal amongst others. Inspecting the fabrics helps decide which jersey to go for, other factors such as collar design, available colours etc may swing you one way or another. There are a specified set number of colour combinations available for each style, so there isn't complete autonomy, but there are more than enough colour schemes to choose from. I opted for the very dashing symmetrical look of the Dynamic jersey (recently launched as Fulham's third kit) in heroic white with black trim.
Once the choice of long or short sleeves is made, your club badge and sponsor's logo are then uploaded and added to the shirt visual on screen. This is easier than it sounds and the graphics files you upload are checked through by Nike before they are adhered to the strip. Names and numbers for the reverse of the shirts can be added if you wish. You then go through the whole process again for the accompanying goalkeepers kit. This time I opted for the Park II design (as worn by Arsenal and Manchester Utd) in black and silver which I thought would be a suitable match to the white outfield shirt.
The final stage involves selecting from the wide range of shorts and socks designs to complement your shirt and then your strip is complete. Kit sets are available in quantities of 3, 5 or 12.
Conrad checked through my selection, filled out a form on-screen and that was it! I received a small wallet giving details of my design with the promise that within 3-4 weeks the shirts will be delivered.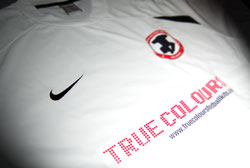 So, just the other day, amidst eager and impatient anticipation, a parcel arrived stamped Nike. Feverishly ripping open the tape I was faced with the glorious sight of my very own True Colours Nike kit. The quality is as you would expect from Nike and its a great feeling to hold in your hands your very own customised jersey.
Sadly, with my age and waist measurement both rapidly approaching 40 my five-a-side days are over, so my shirt may not ever see active duty and will no doubt spend much of its time hanging in pride of place on my wall. But you never know, if I can get the guys together for one last football hurrah I will be able to don my official Nike True Colours shirt with pride.
Many thanks to Nike, Freud Communications and all at The Boot Room, Niketown.
More pics to follow soon.