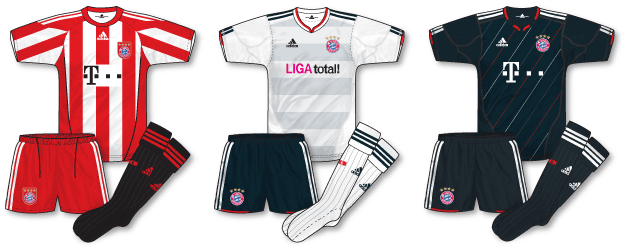 If there's a finer set of new kits this season than Bayern Munich's new outfits I'd like to see them.
Adidas have really hit the spot here as far as I'm concerned with a traditional looking home kit to commemorate the club's 110th anniversary perfectly complemented by a frankly superb away kit featuring subtle pale blue/grey bands and a stylish anthracite third (and also Champions League away) complete with alternating red, white and pale blue/grey diagonal pinstripes. Rather than including the logo of T-Mobile/Deutsche Telekom, the away features the logo of Liga Total! – the exclusive Bundesliga soccer service via Deutsche Telekom's Entertain portfolio and mobile communications.
Fair enough there is a chance that the kits may not cover every colour clash eventuality and perhaps the white away would have looked better with white shorts but as a set I think they look great. I love the way they have taken adidas' standard templates and really made the most of them. If I was a Bayern fan I would have to snap up all three.