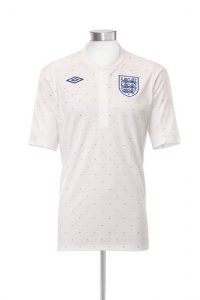 With the new season now well under way understandably there haven't been too many recent shirt launches to get us kit anoraks all hot under the collar. The biggest news this week is the launch of a special limited edition Umbro England shirt featuring Peter Saville's colourful crosses throughout the entire fabric. Its certainly a very different and brave shirt and would be a nice addition to the wardrobe of any England shirt collector. Not sure how popular it will be with the everyday England fans though given that the crosses graphic (symbolising the identities of modern day England) was not exactly warmly received when it appeared on the chest/shoulder panels of the regular England kit.
The other kit news I saw last week on Football Shirt Culture was the launch of some new adidas Star Wars shirts. Now, I love football kits and I love Star Wars, but putting them together just doesn't do it for me. Maybe its an age thing (after all I remember seeing Star Wars at the Odeon in Southend when it first came out in 1977!) but these new shirts are just utter rot. Embarassing and poorly thought through – just awful. See what you think – click here.
I've recently finished a commision to supply very basic Champions League kit illustrations. I'd like to develop these and get them on the site at some point soon – but first I have to finish the 09-10 kits (just added Sheffield United's) and then start work on adding the 10-11 outfits. Illustrating the backs of the shirts for this section does mean a lot of extra work so I'd appreciate your views as to whether its worth including them. What do you think? Please let me know.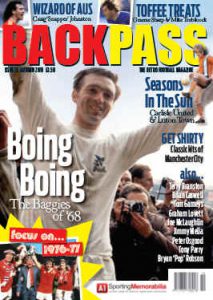 Speaking of kit illustrations, I have a new regular kit feature starting in the latest edition of Backpass – the excellent magazine that deals with all manner of retro football topics. Each feature highlights several key or interesting kits from a club history dating from the 1960s to the 1980s and is accompanied by text and photos. This edition features Manchester City and can be bought at WH Smiths or online at the Backpass website.
A couple of other websites I'd like to draw your attention to are:
Pride in the Jersey – the first ever website dedicated to documenting the history of GAA kits. This fascinating look at Irish kits has been put together by Denis Hurley – a regular contributor to True Colours message boards – and features an interesting article on kit clashes in the GAA.
Footy Kit Reviews – this new kit review site is by Rich Johnson – another regular here at True Colours – and it gives his views on various contemporary kits. Again, well worth a visit.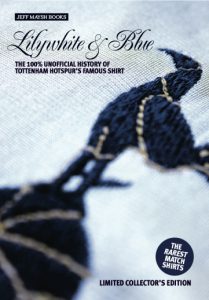 I hope to posting a full review very soon of a new book on Spurs matchworn shirts entitled 'Lilywhite & Blue' by esteemed journalist, football kit fan and all-round top bloke Jeff Maysh. Just to say, if you're interested in kits (and if you're reading this I have to assume you are!) you will love this book. Jeff's also ghost written the memoirs of Roy Reyland, a kit man at Spurs for many years which also looks like being a good read. Check out Jeff's site here.
Finally, keep an eye open for a bit of a restructuring of the True Colours site over the next few weeks along with a slightly different new look…watch this space.