As someone whose studied football shirt design indepth for the best of 15 years I've always done my very best to focus on the positive. Not always easy with some strips that have cropped up in recent years but I do get tired of the 'Worst Football Shirts Ever' features that are ten a penny online and in the media. When I wrote True Colours and started this body of work it was always about a celebration of football kit design from very much a positive point of view.
I was delighted to find others out there in the football world felt the same about this constant obsession with the 'worst' kits and together with a few like-minded souls (namely Chris & Rich from the esteemed Football Attic blog along with Jay from the equally highly regarded Design Football) and a few guest writers have decided to present a more favorable look at some of the strips that have been worn over the years.
Months in the planning, we're proud to present at last The 50 Greatest Football Shirts Ever!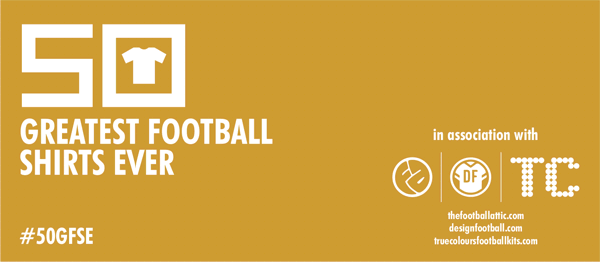 Over the next few weeks we'll be posting about our favourite shirts with an illustration of each one and a little bit about why it floats our boat. Its our selection of what we, personally, consider to be the creme de la creme of football shirt design. Shirts that excite us, tell a story, have deeper meaning, cultural significance or just plain look good!
As a subjective selection there's going to be some controversies. There may be kits that you feel we've missed and should be included and ones that you're scratching your head in disbelief at their inclusion. But hopefully you'll enjoy our reasoning and explanations behind their selection…whether you agree with us or not!
I'm so pleased and proud to be involved with this project – it starts tomorrow (Sunday 21 June) with a new kit every day (or so) – and I hope it will provide a real celebration of excellent kit design past and present.
For more details head over to The Football Attic.