Posted by John Devlin
Posted by John Devlin
Posted by John Devlin
Posted by John Devlin
by Denis Hurley
Clearly, given the subject matter of my previous two contributions on here, the issue of change kits is one that interests me quite a lot.
There has been plenty of discussion about clashes in the various comment threads on the site and so, after more pestering, John has allowed more once more to spout my ill-informed and uneducated opinions.
It's a tough task I have decided to tackle – namely what constitutes a clash, and the various ways clashes are dealt with, while leaving aside the fact that many teams wear away and third kits simply to sell more shirts.
We can all agree that, fairly obviously, if two teams have the same, or very similarly, coloured shirts, a change is required, but what of 'partial clashes', where is the tipping point? If opposing sides have the same colour sleeves, is it allowed? To what extent do stripes cause clashes with solid shirts? And do shorts and socks contribute to a clash?
We shall try to answer these questions, but the real objective is to get a debate going, one which some people will no doubt want to partake in with different views to mine!
For our money, the issue could be dealt with far more efficiently, often it seems as if the person deciding on changes or lack thereof is reading descriptions of the kits rather actually looking at them.
For a prime example of this, look at another code of football, rugby union, where Scotland or Italy always change when they clash in the Six Nations, despite there being no confusion between bright blue and navy blue. The other side of that coin is that changes in England-Argentina rugby games have only become common in recent times due to England wanting to sell alternative jerseys.
While things are not that bad in football, there are some quibbles, though obviously it is ultimately the decision of a referee and each one is different, for example Howard Webb, a World Cup final referee, allowed this game http://www.gettyimages.co.uk/detail/news-photo/jermaine-jenas-of-tottenham-holds-off-steven-reid-of-news-photo/57002770 to go ahead in 2006 when Blackburn failed to bring another kit to White Hart Lane.
The far end of the spectrum in terms of avoiding clashes is seen at World Cups and European Championships, where an avoidance of dark-v-dark or light-v-light is often desired, as well the minimisation of the same colour appearing prominently on both sides' kits.
Even so, there is some inconsistency with this approach. For example, in 2002 England-Brazil was deemed to be a clash but Brazil-Germany in the final was not. More recently, Italy and Spain were both allowed to wear home kits in their two Euro 2012 ties, while Croatia changed from a predominantly white kit to all-blue against the Republic of Ireland, when Ireland in all-green and Croatia in their usual kit would surely have worked better if a contrast was being sought.
The major tournaments do tend to seek to sort what I have termed the 'overall clash', basically where the kit is viewed as one whole rather than three distinct parts. An example of this happening is when Everton would play Leeds and Leeds would wear blue shorts, when staying in all-white would have been a better solution rather than introducing a colour worn by their opponents.
I feel that the shorts and socks can have a big effect, and would cite last Saturday's game between Newcastle and Tottenham at St James' Park. Spurs have an all-white home this season and an all-navy away, with a third ("to be advised", according to the Premier League Handbook) set to be black and grey, so a satisfactory solution was always going to be difficult.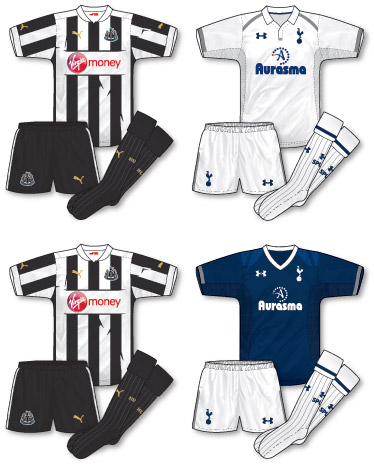 If Newcastle's home still had a mainly black back, I would have felt that all-white was fine, but as it is the back is white, so Spurs in navy-white-white had potential for confusion. It brought to mind, but was not as bad as, Newcastle's cup game with Tranmere Rovers in 2000, when the Toon's changing of shorts made a bad situation worse (http://www.gettyimages.co.uk/detail/news-photo/andy-parkinson-of-tranmere-rovers-challenges-aaron-hughes-news-photo/1521399).
Striped shirts against a team with the colour of one of the stripes is allowable in my book, once the short and socks do enough to differentiate. Watching Celtic in their narrow hoops recently made think that they could play a team in all-green without a change, but if they had green shorts or socks then this would not be possible.
The overall clash is far more important than comparing teams's shirts, shorts and socks separately, in my view. I would allow Arsenal and Barcelona to play each other this season in their home kits, and while I would stop short of letting Liverpool and Ajax do the same, if Ajax's stripe was narrower it could work.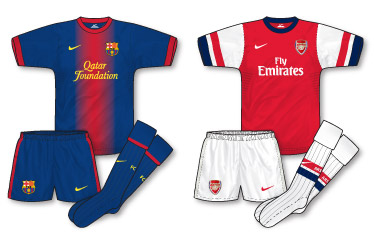 On the subject of sleeves, Arsenal have often changed against sides in white (though only once against Spurs), and some referees, particularly in the League of Ireland (http://en.wikipedia.org/wiki/Anthony_Buttimer), have a problem with it. It was therefore very surprising when, in the 2010-11 season, Arsenal wore yellow away to Blackpool despite having theoretically retained the previous season's navy away a third choice.
On stripes v stripes, I would retain the same view regarding the shorts and socks, for example Stoke in white shorts and socks against Newcastle in black shorts and socks is manageable, but the Tyne-Wear Derby is somewhat more problematic.
For a time the away side would change but to the best of my knowledge this has not happened since the early 90s, though last year Newcastle apparently wanted to wear their orange away (http://www.wsc.co.uk/weekly-howl/1004-2011/7641-weekly-howl-19-08-11), not considering how this would impact against a side in red and white.
And maybe that's the bottom line, that there is not enough thought put into the whole thing. At least it gives us kit aficionados something to talk about.
Posted by John Devlin
Aston Villa 2010-11 Kits
Birmingham City 2010-11 Kits
Blackburn Rovers 2010-11 Kits
Blackpool 2010-11 Kits
Bolton Wanderers 2010-11 Kits
Chelsea 2010-11 Kits
Everton 2010-11 Kits
Fulham 2010-11 Kits
Liverpool 2010-11 Kits
Manchester City 2010-11 Kits
Manchester United 2010-11 Kits
Newcastle United 2010-11 Kits
Stoke City 2010-11 Kits
Sunderland 2010-11 Kits
Tottenham Hotspur 2010-11 Kits
West Bromwich Albion 2010-11 Kits
West Ham United 2010-11 Kits
Wigan Athletic 2010-11 Kits
Wolverhampton Wanderers 2010-11 Kits
Championship Kits
Barnsley 2010-11 Kits
Bristol City 2010-11 Kits
Burnley 2010-11 Kits
Cardiff City 2010-11 Kits
Coventry City 2010-11 Kits
Crystal Palace 2010-11 Kits
Derby County 2010-11 Kits
Doncaster Rovers 2010-11 Kits
Hull City 2010-11 Kits
Ipswich Town 2010-11 Kits
Leeds United 2010-11 Kits
Leicester City 2010-11 Kits
Middlesbrough 2010-11 Kits
Millwall 2010-11 Kits
Norwich City 2010-11 Kits
Nottingham Forest 2010-11 Kits
Portsmouth 2010-11 Kits
Preston North End 2010-11 Kits
Queens Park Rangers 2010-11 Kits
Reading 2010-11 Kits
Scunthorpe United 2010-11 Kits
Sheffield United 2010-11 Kits
Swansea City 2010-11 Kits
Watford 2010-11 Kits
Posted by John Devlin
Predicting exactly what goalkeeper kits will be worn in Euro 2012 is a bit of a black art. As is often the case with goalkeeper outfits (as discussed on True Colours) it seems there are little hard and fast rules as to what will be worn. Rather than posting too much incorrect info I will be posting them as and when they are worn.
Posted by John Devlin
There's a strong array of kits for this summer's Euro 2012 championship with some fine efforts from all manufacturers. They're certainly better than the Euro 2008 designs which in retrospect were fairly dull with too much emphasis on simple two-colour designs. The fact that there was such an over-riding quantity of red or white strips didn't help in terms of variety either (although yet again this year red and white seem to dominate, especially in Group A).
For me this year adidas probably have the strongest roster in terms of incorporating tradition (e.g. the return of green to Germany's away strip) and elegance but on the downside their templates have been pretty much the same for many years now with no adventurous thinking in terms of the application of their three stripes and the by now tired approach to their stitched/seamed panels.
There are some strong ideas from Umbro who have three teams in the tournament and Puma also have some interesting designs although on the whole I'm a little disappointed with their kits this year.
The real pick of the bunch though in my view is Nike's French kits, especially the home, which I consider to be one of the best kits for several years. The firm have embraced the challenge of producing the France strips since taking over the contract from long-term incumbents adidas, and have excelled themselves with some forward thinking, stylish, suave and typically French outfits.
Can't wait to see the kits in action this summer…
GROUP A
GROUP B
GROUP C
GROUP D
Posted by John Devlin
My first real footballing memory is the same as that of a lot of Irish people around my age – the heady days of Italia 90.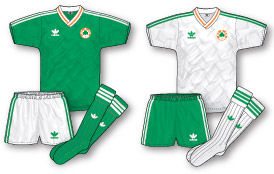 Even then, I was fascinated by the kits, and there are few things better than a World Cup to help such an interest develop. Having been introduced to the concept of home and away kits by my father at my first Cork City game shortly before Italia 90, I was surprised to find Ireland decked out in white shirts and green shorts against the Netherlands and Italy, when neither of them played in green.
I was told that, as the World Cup was being beamed around the globe and not everybody was as lucky as to have colour televisions, it was necessary to be able to tell teams apart in black and white. Of course if I'd simply waited a few weeks until the start of my first season supporting Arsenal, I'd have come to see that an "away kit" appeared to be just that, as the Gooners were in the habit of changing for nearly away game. But, in any case, I think I'd have been too surprised by the fact that Arsenal's change strip was yellow and navy rather than white and red.
Having seen that Ireland's away kit was simply a reversal of the home (bar the neck, which stayed the same), I had simply assumed that all teams did this, and that Arsenal's away would be white with red sleeves, not considering how such an outfit would not really alleviate a clash.
Since my childhood, I've come to see why yellow and blue are the first choice of many as Arsenal change colours, and I now favour them too, but in general my preference is still for and away kit to be simply a reversal of home colours, or at least use of the same two or three colours in a different order, as a way of retaining the club's identify.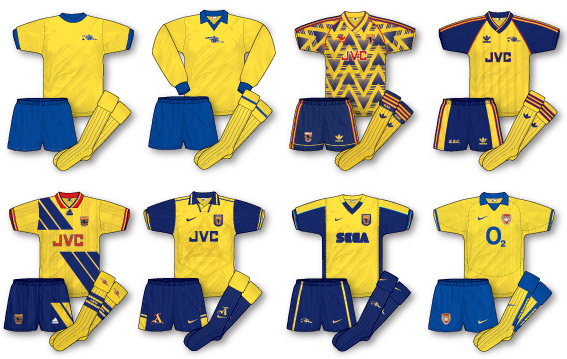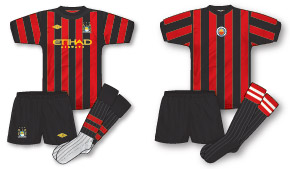 Of course, teams other than Arsenal have also embraced change colours that bear no relation to the home and they have gradually developed to be seen as the club's 'ideal' away choice, such as red and black for Manchester City (despite them being Manchester United colours) although a case could also be made for maroon that City have also worn on several notable occasions.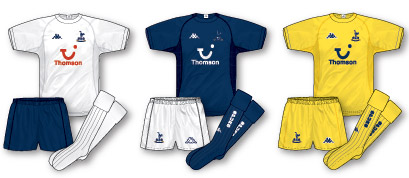 Similarly, yellow is often considered the regular away strip for Tottenham (though I have to admit I loved their set in 2004-05, when yellow was third choice and the away was the exact opposite of the home).
When worn on famous occasions, these change colours take on a personality of their own – the 1971 and 1979 FA Cup finals, as well as the 1989 league decider, have ensured that for Arsenal, though why completely different colours are chosen in the first place is something of a mystery. Football seems to stand alone in this regard. In the main American sports, home and away uniforms (the term is taken literally there) always have the team colours, it's similar in Gaelic football and hurling (see www.prideinthejersey.com for more – please, I need the hits!) and the approach taken in Australian Rules can best be understood by this link http://www.collingwoodfc.com.au/tabid/5586/default.aspx?newsid=105726.
One possible reason for the way it developed in England was that originally in the FA Cup both sides were required to change in the event of a clash, so if teams' change colours were similar too then a different option was required. It was due to this that Arsenal wore yellow/gold for the first time, against Liverpool in the 1950 final, but it wasn't until 1968 that yellow and blue were decided upon in a more permanent manner, as the Gunners had to stop using their navy away, due to the FA outlawing the colour as it clashed with referees.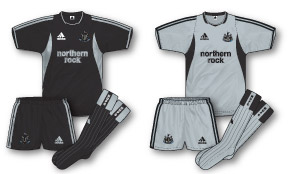 Some clubs, Newcastle United for example, tend not to have a 'favourite' away design (one could say yellow and green but to the best of my knowledge they have not worn those colours together since they had Umbro in the early 1990s). However, The Toon have utilised another of my favoured approaches to change kits when, in 2003-04,  the away and third were the opposite of each other: black with silver trim and silver with black. This is something that can work when the designs are nothing like the home, for example Arsenal in 1999-2000 (yellow with navy and navy with yellow) but something like the range of kits Crystal Palace had in 1990-91 was perfect in my view:  the home was the usual stripes while the away was a similar design in all-blue with red trim and then the third, using the home shorts and socks, was all-red with blue.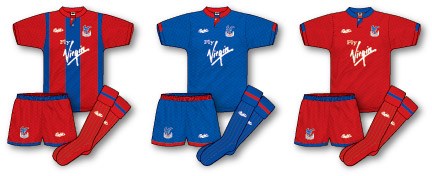 Such a philosophy doesn't always work – witness Bristol City having purple and green change kits in 1993-94 – and if it is being done, then clubs should take advantage of the mix-and-match opportunities rather than doing something like Liverpool did in 2007-08, when they had two pairs of black shorts with white stripes and red trim. You'll notice that this article hasn't yet dealt with 'out there' away kits, where the designers let their imaginations run riot. Well, I'll do so now – I absolutely hate them!
Posted by John Devlin
Posted by John Devlin