There can't be many football kit afficiandos who are not familiar with Vision Sports' series of match worn shirt books, driven by kit expert Simon 'Shakey' Shakeshaft. In each tome Shakey is joined by fellow collectors and between them, using photos of the actual shirts, they tell the story of a club's kit history. So far Arsenal and Spurs have been featured in the weighty, coffee table editions alongside a companion publication 'The Rangers Shirt'.
Quite frankly, the books are superb and are essential reading for all football fans.
This time round Shakey turns his attention to the England shirt with this new book (published November 2022), 'Three Lions on a Shirt'. An official FA publication, collectors Daren Burney and Neville Evans (owner of without doubt THE most incredible football shirt and memorabilia collection) join Shakey once again, as they both did for the Spurs book, and open their archives.
The book is a masterpiece and I've been drooling over it ever since receiving a copy last week. Beautifully photographed and beautifully designed by Vision Sports (glad to see that the thin, grey typeface used in the Spurs book has been ditched) the book is jam-packed with facts and stories concerning England's famous strip. The attention to detail is breathtaking and is nothing less than what we've come to expect from Shakey, a man known and feared for his tenacious approach to accuracy. This time round his prose is particularly crisp and engaging.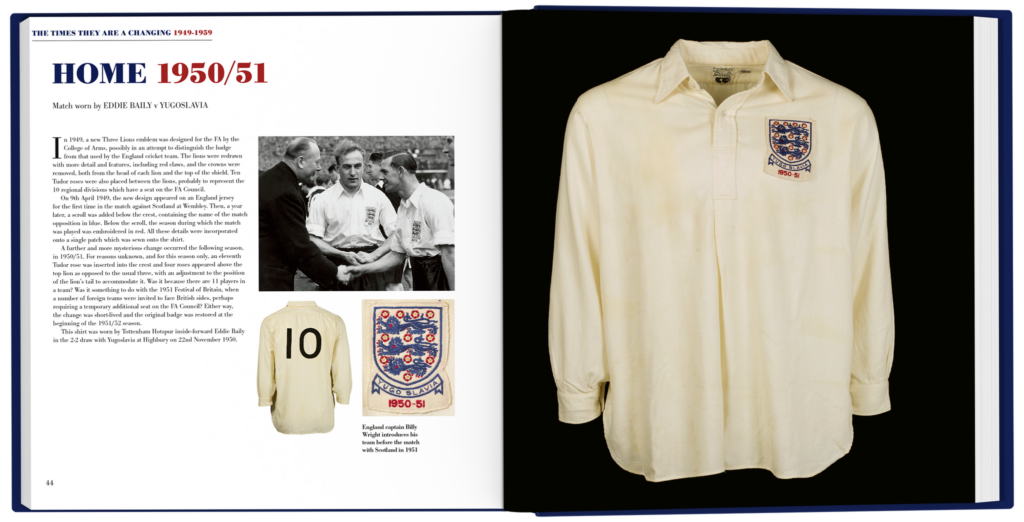 It's such a joy to see some of the early England shirts from the first half of the 1900s up close, along with some of the rarer shirts in the England back catalogue such as the Umbro and Admiral Airtex yellow change shirts from the early-70s and the sky blue affairs from the glorious late-80s/early-90s. The full story of each shirt alongside insights into what was happening in the football kit world in general make this a thoroughly entertaining and captivating read.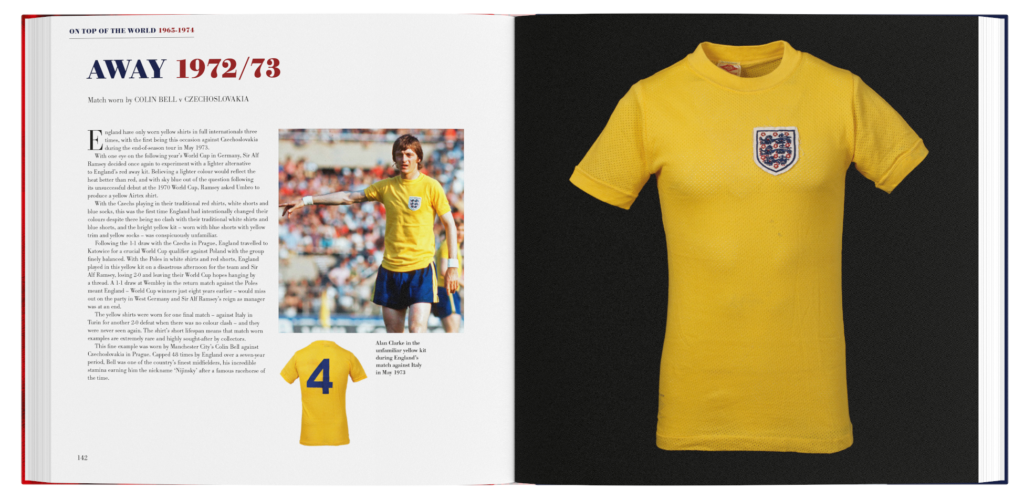 Interspersed into the timeline the publishers have inserted breakout articles such as the history of the England Women's team shirts (which was particularly enlightening and riveting) alongside features on England's kit men and the Nike design team talking through their processes. All of which give context and background to the shirts themselves.
A whopping 388 pages means I haven't had a chance to go through it in fine detail but I couldn't see evidence of England's almost mythical and unused third shirt from 2009–10, neither was there any photos of England's 1954 World Cup shirts. I fully appreciate these are likely not to be in the authors' collections but it would have been nice to see some representation of them in the book for the sake of completion. This is only a tiny criticism though and it's really hard to pick fault with this book.
Goalkeeper shirt fans (Rob Stokes, I'm looking at YOU) won't be disappointed either as keepers' attire is also well documented in the book. There is something here for England fans and kit obsessives alike. Matchday embroidery, shirt numbers, variations, trim – it's all covered in comprehensive detail and always presented in a very readable way.
It's bang up to date too and includes the shirts to be worn in the 2022 World Cup.
For me though, again, the real highlight is the crystal clear photos jerseys from the early years – you can almost smell the history and touch the fabric through the pages. It's amazing to see these often ignored (until fairly recently) items of clothing taking centre stage. It's so good to know that this precious items are being well cared for as part of the essential history of the game.
Even as a Scotland fan (!) there's so much here to enjoy. Great work, Shakey, Daren & Neville.
My last words….buy a copy!!