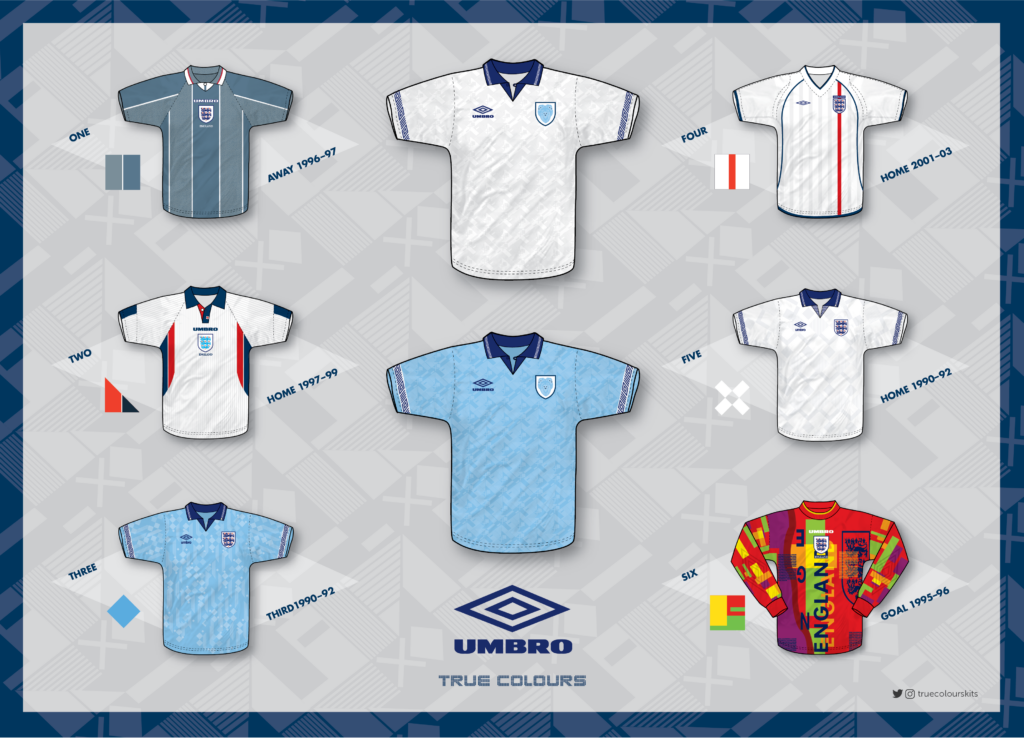 Although the legendary football brand Umbro may not be present at this year's World Cup it hasn't stopped them celebrating their key role in so many previous tournaments and they've drawn on their rich history to produce the Nations Collection in time for the big event.
Using key graphical elements from previous shirts, Umbro have crafted this superb range of new fan fusion jerseys, with a special focus on bespoke versions for both England and Brazil.
I thought I'd take a look at the England shirts and the iconic past jerseys that have informed these exciting new designs.
The basic look and feel of the shirts is informed by the classic Italia 90 designs and the Nations Collection versions feature the same neatly trimmed collar (minus press studs!), single button neck design and Umbro diamond taping on the hems of each sleeve. A 1992 issue Umbro logo (with upper case letters) and a specially designed twist on the 'three lions' badge complete the design. Throughout the fabric there is a gorgeous jacquard/shadow pattern made up of elements from six key England jerseys from the past…
ONE – AWAY SHIRT 1996–97
This controversial away shirt proved highly controversial at the time as it was the first non-red primary change shirt for England for many years. Instead 'indigo blue' formed the main colour of this swish design that was also one of the first replica tops to be marketed with a 'looks good with jeans' message; the switch from designing for the pitch to designing for the high street was beginning. It's key moment came in the Euro 96 semi-final where England endured another heart-breaking penalties defeat to Germany.
TWO – HOME SHIRT 1997–99
After a brief dalliance in two shades of blue accompanying the white of England, Umbro reverted to a more familiar navy and red colour scheme for this shirt. It followed a basic Umbro aesthetic of time that leaned heavily on large panel blocks of colour and broad pinstripe shadow trim. As with the previous designs a large Umbro logotype was used and all badge elements (including additional 'ENGLAND' text) were placed centrally. A nice touch was the small St George's Cross flag motif on the placket. This shirt shone in the 1998 World Cup finals and was worn in the penalties defeat to Argentina in the second stage.
THREE – THIRD SHIRT 1990–92
A real favourite of England fans at the time, this sky blue jersey followed the design lead of the home shirt (as replicated with the Nations Collection jerseys don't forget!) but fashioned in a cool light blue shade. It also incorporated a different and slightly more erratic Jacquard/shadow pattern that worked well within the design. Although it was taken to Italy for the 1990 World Cup it wasn't called into action and in fact its only appearance was in a 1991 1-0 win over Turkey in a Euro 92 qualifier.
FOUR – HOME SHIRT 2001–03
This slick white number with it's asymmetrical red strip and arching blue piping is another peach of an Umbro shirt. Delicate navy trim decorated the v-neck and cuffs and candy shadow stripes adorned the fabric. It made its debut alongside Sven Goran Eriksson in a 2001 match against Spain and was worn in the 2002 World Cup finals but its two most memorable games were undoubtedly the 2–2 draw against Greece where a last minute David Beckham free-kick saved England's blushes AND sent them to the World Cup and the astonishing 5–1 humiliation of Germany in an earlier qualifying match.
FIVE – HOME SHIRT 1990–92
Like the third shirt mentioned above, this classic jersey has exuded a huge influence on the new Nations Collection England shirt. Stylish yet sturdy, this design with its intricate geometric jacquard pattern became one of the most iconic England kits ever thanks to the heroics of the side in the 1990 World Cup, most notably of course those of Paul Gascoigne in that unforgettable semi-final defeat against Germany. Aptly, teamwear versions of the jersey were named 'World Cup' in the Umbro catalogue of the time. The shirt was also worn in Euro 92 making it one of those rare modern kits that straddled two major tournaments.
SIX – GOALKEEPER SHIRT 1995–96
The last design that forms part of the inspiration behind the Nations Collection shirts is the iconic red goalkeeper jersey from 1995–96. Commonly linked with David Seaman, the shirt has become affectionately known as the 'refreshers' jersey due it's colour scheme resemblance to the confectionary product. Typical of the adventurous and bold goalkeeper designs that were commonplace in the mid-90s this really is a classic shirt with strong green and amber blocks mixing with purple hues and large type applications. Top it with a stretched England badge and you have one of THE most unforgettable goalkeeper shirts ever!
The Nations Collection will be available to buy on 7 October 2022.