Signed copies (with free set of kit cards!) of my most recent book, TRUE COLOURS: INTERNATIONAL FOOTBALL KITS, will be available shortly from my online store. Or you can order a regular edition from Amazon.
TRUE COLOURS INTERNATIONAL FOOTBALL KITS includes: ARGENTINA, BELGIUM, BRAZIL, DENMARK, ENGLAND, FRANCE, GERMANY, ITALY, MEXICO, NETHERLANDS, NORTHERN IRELAND, PORTUGAL, REPUBLIC OF IRELAND, RUSSIA, SCOTLAND, SPAIN, SWEDEN, URUGUAY, USA, WALES
---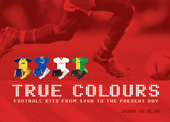 My first book, TRUE COLOURS, is currently out of print, but copies do crop up on ebay from time to time.
TRUE COLOURS includes: ARSENAL, ASTON VILLA, BIRMINGHAM CITY, BLACKBURN ROVERS, BOLTON WANDERERS,CHARLTON ATHLETIC, CHELSEA, EVERTON, FULHAM, LIVERPOOL, MANCHESTER CITY, MANCHESTER UNITED, MIDDLESBROUGH, NEWCASTLE, PORTSMOUTH, SUNDERLAND, TOTTENHAM HOTSPUR, WEST BROMWICH ALBION, WEST HAM UNITED and WIGAN ATHLETIC.
---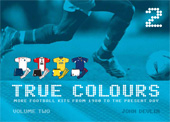 TRUE COLOURS VOL 2 is still available and can be ordered from Amazon.
TRUE COLOURS VOL 2 includes: COVENTRY CITY, CRYSTAL PALACE, DERBY COUNTY, IPSWICH TOWN, LEEDS UNITED, LEICESTER CITY, NORWICH CITY, NOTTINGHAM FOREST, READING, SHEFFIELD UNITED, SOUTHAMPTON, STOKE CITY, WATFORD, WOLVERHAMPTON WANDERERS along with the kits of the ENGLAND, SCOTLAND, NORTHERN IRELAND, REPUBLIC OF IRELAND and WALES national sides.
---
Beautifully produced and club-approved KIT HISTORY A3 PRINTS are also available from my online store. Teams available are: WEST HAM UNITED, NEWCASTLE UNITED, QPR, LEEDS UNITED, DERBY COUNTY, IPSWICH TOWN, LINCOLN CITY, SOUTHEND UNITED, MK DONS, LEYTON ORIENT.
---
What people are saying about TRUE COLOURS:
This is presented in full colour and very attractively too, over 300 landscape pages, providing both a work of reference, an examination of a modern football phenomenon, and a jogger of recent memories. Programme Monthly

True Colours' truly is an indespensable publication. Leeds Leeds Leeds

I loved volume 1. I wanted more. I wanted John Devlin to cover more teams. I wanted more football kit history and illustrations. But I didn't think it would happen. I thought I'd have to make do with that one fascinating, memory-jiggling book. Then I spotted volume 2!!! More teams. More kits and the stories behind them in the same beautifully depicted, page-turning format. Come on, John! Get volume 3 written and don't stop till you've completely covered every single team, domestic AND international. I'd buy them all. And if your publisher won't risk the 'lower' teams, then make a website. But really, I'd prefer more volumes on my bookshelf. Excellent. Both books brought back so many memories and it was great to see how the kits evolved through the years. Amazon review

If you are dithering about buying this book – don't, it is great. Super book – get yourself one! Amazon review

This book is brilliant – quite simply. From the painstaking research, the beautiful, easy to read layouts and of course the past twenty years kits of all the current Premiership big boys. Amazon review

Author John Devlin has done an awesome job covering the histories of each of the 2005/06 Premier League Clubs' home, away 3rd and European shirts since 1980…this is a fantastic book for all football fans who have shed blood, sweat, tears and ridiculous amounts of money for their favourite club's football shirt. Amazon review

Fantastic book and surely the most indepth look at football kits ever. Every club in the 2005-06 Premiership is featured as this book analyses every home, away and third kit that they have sported since 1980. Each kit is lovingly represented in full colour complete with sponsor, designer and year that the kit was worn. Also present for each kit is a list of some of the more memorable players and matches to have been associated with each kit. Its a football fans dream and 256 pages of pure magic. Amazon review

This book is for the true enthusiast. Reading Evening Post

John Devlin has skilfully put together a second book full of kits – 20-odd years worth for each team – which this time features the main teams from the lower divisions. After the success of book 1 which did the same for those teams in last season's Premiership, this one repeats the formula by not only showing the kits but also analysing the trends and reasoning behind the strips worn by each team. Another fantastic book for all you kit lovers and a perfect accompaniment to the first edition, which is still available. Some People Are on the Pitch review
---
To find out more about the author, John Devlin, click here.