Posted by John Devlin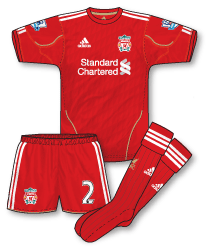 As a little taster for a more in depth review of a selection of 10-11 season kits that will be coming shortly I thought I'd just feature the new adidas Liverpool home kit for 2010-12 (yes, two seasons!!) The strip was one of the earliest to be involved a few months ago and despite being slightly underwhelmed the design (like most of adidas' recent strips actually) has really grown on me. Its a design that just screams "Liverpool" despite the arrival of new sponsors Standard Chartered who replace the old familiar Carlsberg. The shirt features a simple crew neck devoid of any trim and a diamond shadow pattern clearly inspired by the club's 1989-91 silver away kit that was worn in the last season Liverpool won the title. No coincidence there I'm sure. The shorts are virtually identical to the previous kits with the exception of a very subtle piece of gold piping that also features on the shirt. Nice to see a third colour back on the Red's kit. The Liver Bird still doesn't return as the club's badge on the kit but it does crop up in gold on the socks.
In my view its a good, solid looking kit and it will be interesting to see if the new kit, sponsor and most importantly manager, will bring Liverpool some good fortune this season.
21 Responses to "Liverpool Home Kit 2010-12"
Leave a Reply