I was delighted when friend of the site Denis Hurley mentioned contributing an article around one of his pet hates concerning football kit design and sent in this great feature. Denis is a freelance sports journalist in Ireland who has an unhealthy obsession with football kits.
It is often odd when you think back to the things you did when you were a little boy. When I was eight years old, at the beginning of the 1992-93 season, clearly following real football was not enough to satisfy me, and so I created an imaginary club. Where I, being from Ireland, got the name 'Clydeonian' from I'll never know (I always took an interest in Caledonian Thistle after I heard of them a few years later), and my method of squad selection was probably not the best either.
Basically, I started off with a team comprised of players whose Pro-Set cards I had, meaning a strikeforce of Paul Merson and Owen Archdeacon, though I allowed myself to sign Dragan Stojkovic when I realised Andy May (of Bristol City in real life) was not up to the standard required of a team chasing a fantasy championship. You're probably wondering why such meanderings are appearing on a site dedicated to kits. Well, you see, even back then I held the same principles towards kits that I still do.
In my head, and on numerous sheets of paper spent drawing goals from games, Clydeonian wore an adidas kit. It was a mixture of what France and Rangers wore at the time, with the three stripes over either shoulder, two red and one white, with white shorts and blue socks with red tops. The away was exactly the same design, only white where the blue was, blue where red was and red where white was, with blue shorts and white socks, with the third following the same rules, red the main colour. And this is the point I am trying to make – I like it when clubs have a set of kits where the shorts and socks can be properly mixed and matched, as the club's identity is retained no matter what kit is worn as all the colours are there.
Manchester United's strips in 1996-97 were classics in this regard, the shorts and socks exactly the same design, with the kits worn in many different variations.
To a lesser extent, United's kits two seasons ago also matched up to that criteria, with the home and away kits both using the same pair of black socks as first choice. However, consider United's offerings from 2006-07.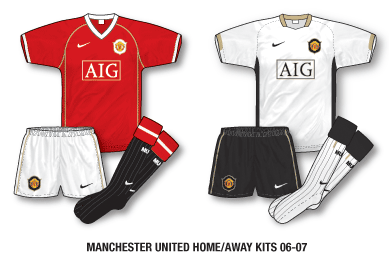 The home was the usual red/white/black, with gold trim on the shirt and shorts. The away was white, with black shorts and white socks, gold appearing all though as well. Red, often a trim on white United aways, was missing from the kit unless there was a sock clash, as at West Ham that season, where the home socks jarred with the rest of the kit. And that is what annoys me (and sometimes I worry that niggling little things like this irritate me far too much and I should get out more) – when a prominent colour in a side's home kit, or one very close to it, is featured on the away kit, only paired with a different colour. Take Everton's away outfits from 2006-07 until last season. All white shirts, but all with navy or black shorts, as opposed to royal blue, last featured prominently on a Toffees' away in 04-05, when plenty mixing and matching occurred.
As I am Arsenal fan, let's take a look at the Gunners' three kits from 07-08.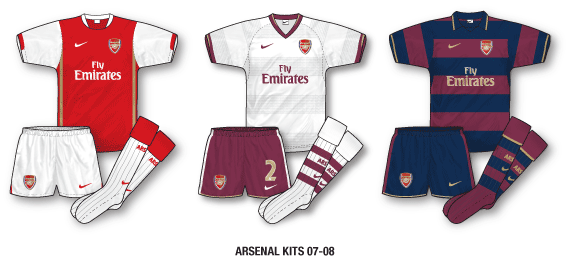 The home was the one launched a year previous, classic red with white sleeves and white shorts and socks, with gold trim on the shirt. Gold was also the third colour on the new away and navy and redcurrant hooped third, the only colour to feature on all three kits. White was on the home and away, with redcurrant on the away and third, with red confined to the home and navy, the tertiary colour on many an Arsenal home, only on the third kit. Despite the fact that colours appeared on more than one kit, there was no mixing and matching. This meant that four different pairs of shorts were used (regular white home, recurrant away and navy third as well as white change away shorts at Sheffield United in the Carling Cup) and five different sock designs (white and red with the home kit, redcurrant and white hoops and plain redcurrant with the away and redcurrant and navy with the third). You can't help but feel that, with a little more thought from Nike, the away would have been trimmed in red with red shorts and socks, paving the way to mix and match.
Let me point out, however, that I'm not calling for all teams to have aways that reverse their homes, I love yellow and blue Arsenal away kits, but when things are so near and yet so far, the lack of foresight seems silly.
(C) Denis Hurley 2009