Formed in 1879 by Edward R Buck and Sons, Bukta are the longest established football kit apparel manufacturers in England, if not the world. Their first kits were produced way back in 1884 for Nottingham Forest – although of course it was to be nearly 100 years later until sportswear companies' logos were permitted on football apparel.
The firm produced kits for a consistently high number of clubs throughout the 1900s and in the 60s they supplied more teams than any other brand including that of the England national side.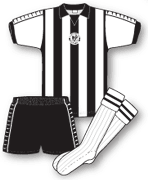 Bukta's popularity continued into the 70s with high profile deals with West Ham, Manchester United, Arsenal and Newcastle Utd. Later in the decade the brand were given a valuable dose of publicity when George Best joined Scottish side Hibernian who sported shirts featuring a massive Bukta logo as part of a kit supplier/sponsorship package.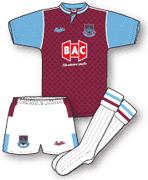 However the 80s saw the firm's flame fade and despite three logos changes and deals with Crystal Palace (for whom they produced a phenomally large number of different kits in just a few short years), West Ham and Derby the company folded as the 90s took hold. The brand suffered further indignity as several of their designs were worn the season after with a new logo simply stitched over the Bukta marque (see the Watford and Derby kits from the early 90s). Obviously in those days team kits were not as plentiful as they are now.
The Bukta brand, now owned by the Cavden Group is making a welcome comeback in 2007 with a new kit deal with Motherwell – no doubt football kit fans throughout the UK will hope to see more of this famous old company on the shirts of their heroes in the coming years.