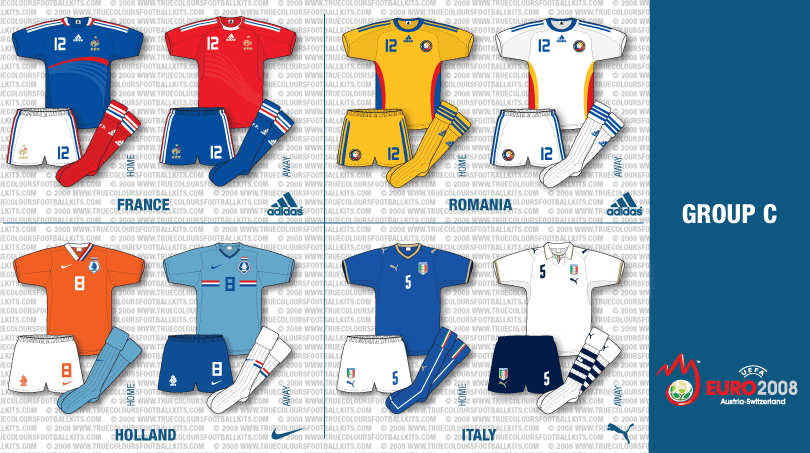 Here is the third of four articles featuring the kits that are to be worn in Euro 2008.For me, Group C is the real pick of the bunch kit-wise with some great designs for some great teams. In my opinion these are the best strips of the tournament.
Adidas lead the way with their kits for France and Romania. The French of course playing in a change strip of red rather than their traditional white – a decision that got the purists hot and bothered. The home shirt features a dynamic chest graphic. As usual the shorts and socks have been designed to be interchangeable between the outfits. Whilst nothing spectacular, the Romanian kits are good solid designs that make the most of their dazzling colours.
The Holland strip features a masterstroke by Nike with the inclusion of 'Nassau Blue' – a colour traditionally associated with the Dutch Royal Family – in the kit. It really lifts the familiar orange and white colourway. The away shirt is another classic with the Dutch flag incorporated across the chest.
Finally, Puma's typically elegant Italian kits make up the Group C selection. Although the designs are standard Puma templates the white and navy colour scheme of the away strip helps create a really classy looking strip.Part 4 of Euro 2008 kits to follow soon.
All illustrations are (C) 2008 www.truecoloursfootballkits.com and must not be reproduced without express permission.