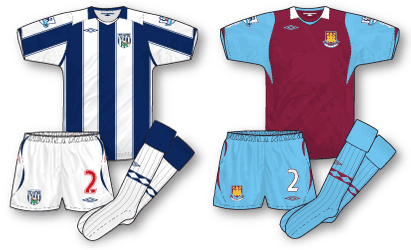 One for pub quizzes of the future – 'what was unusual about the Premier League fixture between West Brom & West Ham in September 2008?' Of course…both sides played without a shirt sponsor's logo – to my mind the only time this has happened since the Premier League's formation in 1992 (apart from of course the 'tribute' Manchester derby last season).
Anyone following the sad demise of XL Holidays this week will no doubt be aware of the implications it has for West Ham, the side who the firm just recently signed a multi-million pound sponsorship deal. The rumours were that the side were going to sport the XL logo in the WBA game to fufill contractual requirements before removing it for future matches. It is relatively rare, certain in the top flight of English football, that a company who can afford to sponsor a shirt hit severe financial difficulties that threaten their existance mid-season. The only previous examples I can recall were:
Allsports who sponsored Charlton's shirts until midway through the 05–06 season until they went bust (the shirts taken over by Spanish property company Llanera who ironically also hit problems a couple of seasons later);
First Advice who collapsed shortly before the start of the 03–04 season, although curiously Manchester City carried on sporting the company's brand on their jerseys throughout the season (it seems it would have been more costly and politically problematic to alter the shirts – apparently a stock of 100,000 replica 'First Advice' home shirts still existed – Thomas Cook were lined up to sponsor the away shirt for the 03–04 campaign but this never materialised);
and Newcastle Utd sponsors Northern Rock whose fiscal problems were well documented last year. The company were actually taken over by the government at the start of 2008 and yet their shirt sponsorship deal with Newcastle continued – effectively meaning that the Government were spending tax-payers cash in supporting a football club. Understandably this move created some degree of controversy.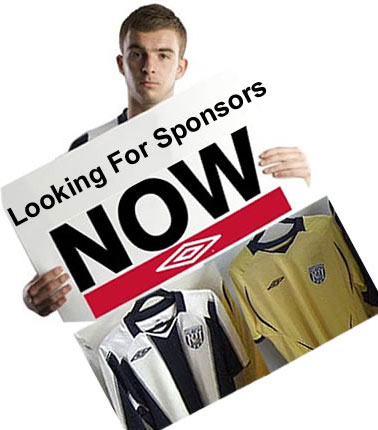 West Brom's situation is different though – they have simply been unable to secure a sponsorship deal yet for this season – despite the club's unashamed campaign to attract a suitable partner. Replica shirts are being sold without a logo although supporters will be able to return the shirts to the club for a sponsor's logo to be added once a deal has been confirmed. It will be interesting to see just how many supporters take the club up on this offer.
The Baggies are not the first Premier League side to struggle to secure shirt sponsorship however – West Ham played most of 97–98 without a sponsor before Dr Martens stepped in (did you see what I did there!) towards the end of the season and both Sheffield Wednesday and Wimbledon played with 'empty' shirts in the early days of the Premier League.
One business sector that hasn't yet been affected too much by the recession and can still be seen frequently as shirt sponsors throughout the land is that of online betting/poker companies such as www.partypoker.com who have sponsored Leyton Orient since 2007.
Although the purists may be pleased, sadly (financially at least – shirt sponsor deals are vital to football clubs these days), sponsorless shirts may become more common as the (and I hate to repeat this over-used phrase) 'Credit Crunch' bites. With many airlines/holiday companys rumoured to be in trouble several clubs may be affected and with most companies being more cautious with their pennies shirt deals may be some way down their list of priorities. The West Brom/West Ham game may prove to be the first of many.