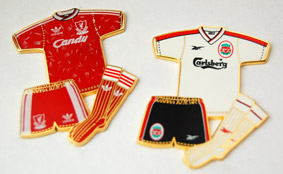 I have been working with Danbury Mint for a while now on 'They Wore it With Pride', a set of special, gold-plated badges based around my illustrations of Liverpool kits and I am delighted to announce that they are finally available!
Danbury Mint are world famous for their top quality, officially licensed and authorised collectable gifts and products relating to the UK's leading clubs.
The badges look absolutely superb and not only do they feature the club's kits since 1976 as featured in True Colours, they actually go all the way back to the re-start of the Football League after the end of World War 2.
Each colour is meticulously hand-applied – fusing the enamel into a hard, jewel-like surface. The finished badges gleam in rich, vibrant hues with great depth and gloss. As a stunning final touch, every badge is embellished with gleaming 18ct gold.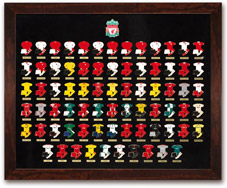 The badges are available on a subscription basis and you also receive a marvellous free hardwood display case frame in which to present the collection. Each badge measures approximately 2'' (5cm) tall by 1½'' (4cm) wide and costs just £9.95 plus p+p.
For more information please visit:
http://www.danburymint.co.uk/index.php?act=product&product_id=2439&cat_id=66&mediacode=&kiks_code=
or click here to download a PDF advert.