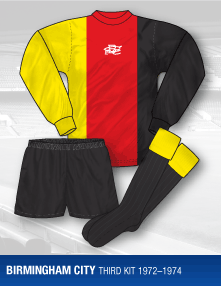 Conversations concerning memorable kits from the past often omit one of the more bizarre outfits worn in recent years: Birmingham City's third shirt from the 72-73 and 73-74 seasons – the era of Bob Latchford, Trevor Francis and the club's iconic blue and white 'Penguin' home strip.
Thanks to its resplendent amber, red and black thirds, the curiously coloured concoction is fondly remembered as the 'German flag shirt'. Legend has it that the design originated from a pre-season tour of Germany when a Birmingham board member thought it would be a good idea to dress the team in the country's colours.
The Umbro-produced jersey was only actually worn a handful of times competitively. It was originally unleashed on an unsuspecting and rather shocked set of travelling Blues fans in the 1972 1st Division 2-2 draw at West Bromwich Albion whose white and navy stripes clashed, not only with Birmingham's home 'Penguin' shirt, but also its red and white away equivalent. Supporters credited the shirt with an assist that evening as depending on which way the Birmingham players were facing, the unique three-panelled jersey rendered them almost invisible under the floodlights, allowing Bob Latchford to pop up undetected to claim Blues' late equaliser against their local rivals – and his own brother, Peter, in goal.
The kit also appeared twice the following season at Queens Park Rangers (another 2-2 draw followed by a 2-0 FA Cup win for the Hoops), before being consigned to the back of the St Andrews' kit cupboard.
Despite supporters' mixed opinions the shirt has entered the club's folklore and modern day replica versions are still sold today.
Although the 'Penguin' was reinstated at St Andrews in 2007 with the return of Umbro, it remains to be seen whether the 'German flag' will ever fly once more on the backs of the Blues' players.
(Despite conversations with two Blues fans – one, the club historian – that confirmed my research, since this article was originally published in issue 6 of Backpass Magazine it has been pointed out that this kit was actually first worn a week earlier then stated in a match against Spurs.)