Whilst updating the 08-09 kits on the sites I couldn't help but be impressed by Norwich City's black kit for the season. I'm not generally a fan of black away kits as I feel they are sometimes a lazy design choice, but I was really impressed by this one. Its a basic design, nothing too elaborate, but I think its the combination of white and dark green trim that makes it such a wonderful strip.
Thinking back though, Norwich kits, in my view, have always been consistently interesting and exciting over the years. Why? Well, I think firstly its that (until recently) they were so seldom worn due to the relative lack of yellow/amber clad teams that could cause a clash. But there just seems to be something stylish about incorporating the club's traditional green and yellow into a change outfit. Green is so seldom used in English football that it always catches the eye. Plus, the vast majority of them have been worn for at least two seasons.
Here are a selection of some of the best Norwich away kits since 1980: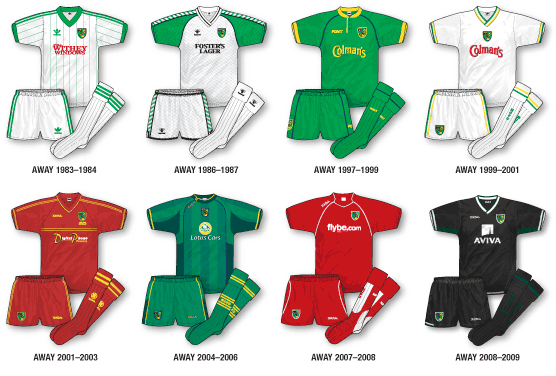 For much of the 80s, the Canaries away kits were simple white versions of the home design, embellished with green and yellow. The red logo of the club's first sponsor, Poll Withey Windows, providing a nice counterpoint on the early designs.
The early 90s was a fraught time for away kits generally and to be fair not many of the club's change outfits from the period stand the test of time. A plethora of blues, purples and the odd splash of red, provided the palette for the time. Come 1997 though and renowned fashion designer Bruce Oldfield was called in to create the Canaries 1997–99 strips putting the club's impeccable fashion sense back on track. And for the first time a simple green, reversed version of the home kit (trimmed subtly with navy blue) was launched to great approval.
For the first time in 10 years a simple white version of the home kit appeared in 1999. The strip, which also added the club's traditional yellow to the trim, featured the red logo of local legends Colmans Mustard. Xara arrived at Carrow Road and introudced a deep red away kit trimmed with yellow. It was a regular Xara template but still looked good.
A darker green was also introduced about this time and made an impressive appearance on Xara's 2004-2006 away kit – one of my personal favourite ever kits. It was a really innovative design, quite unlike anything else around at the time, topped neatly with the prestigious Lotus Cars brand. Red returned in a simple but effective creation in 2007 which was superceded a year later by the earlier mentioned black strip.
09-10 sees the Canaries again opting for a white change outfit.
Well, I've made my choice – any one else like to suggest a team with a better archive of away kits than Norwich? Let me know…