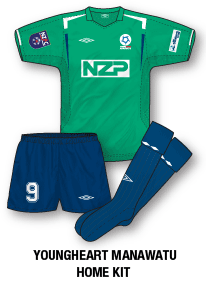 I encountered a curious phenomena when I purchased a shirt from New Zealand domestic side Youngheart Manawatu (what a great name!) who hail from the Manawatu region of the country where some of my family now live.
Umbro supply the club who play in the New Zealand Football Championship and finished runners up in the 08-09 season. New Zealand Pharmaceuticals are their primary sponsor.
The shirt I bought was not a replica as such but was officially branded a "Supporter's Jersey". The shirt itself featured the main sponsors logos, club badge and of course was an official Umbro product. But although it is a proper, authentic football shirt (and one I recognised as a standard Umbro template from a few years back as worn by the Republic of Ireland amongst others), its NOT the one the team plays in. So what exactly is a Supporters Jersey?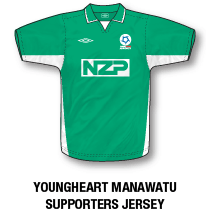 It seems they are pretty common in rugby (especially down under) where replica jerseys tend to be pretty expensive and very much modelled for athletic performance. A supporters jersey allows fans to wear official, branded clothing without squeezing themselves into expensive, tight fitting replicas of the kit the team wears. For example, the latest Nike England rugby shirt is designed for the match itself; tight fitting, minimalist neck design, lightweight with various touches designed to enhance performance. However, there is also a supporters jersey, far more baggy, casual, comfortable, branded and with an old-fashioned button up neck – very similar in fact to the current England football shirt.
In New Zealand the situation surrounding supporters jerseys is slightly different. Football is very much a minority sport with a small but devoted following. Replica jerseys from either football or rugby out there are hideously expensive, we're talking about £60-£70 each. On speaking to Youngheart Manawatu's marketing people it seems they wanted to produce branded clothing for supporters but realised that most fans would probably not want to pay top dollar for a replica – apart from the cost, there just isn't the culture of fans wearing strips exactly the same as the team. So instead they secured a bulk order of old stock from Umbro (in the same colour as the team kit of course) and branded it with the respective logos The cost was approx £15 therefore making a highly affordable and official way to show support for your team.
Its an interesting concept and I wonder if it will ever make its way into mainstream football? Currently there is a plethora of training shirts, polo shirts etc that supplement any club's team kit – but its still the replica jersey that is the pinnacle of supporter clothing.