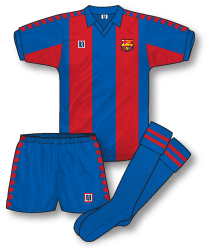 One of the most distinctive continental shirts worldwide is undoubtedly that of Barcelona. Until the club's recent arrangement with Unicef they were famous for never allowing their sacred shirt to be 'desecrated' by a sponsor's logo. However the powers that be's strict stance on the pureness of the Barca strip didn't seem to prevent some truly hideous designs being worn by the club. Although this outfit (produced by Meyba) dates from an era when Barcelona did have a classic aesthetic on the pitch and is pretty familiar to UK fans thanks to the high profile presence at the Nou Camp of Terry Venables and several British players at this time. The kit was worn for an incredible seven seasons and featured a classic combination of stripes and a subtle Meyba trim on the sleeves making it surely one of the more memorable Barca outfits.
Worn in: Barcelona's 1984–85 La Liga winning season.
Worn by: Gary Lineker, Steve Archibald, Mark Hughes.