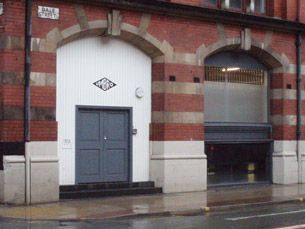 As I've mentioned elsewhere on the site I was extremely honoured to be invited by Umbro up to their studios in Manchester for an exclusive presentation of the new England away kit. I can't reveal any details about the strip until it is officially unveiled by Umbro but I can tell you about the rest of the day and some of the fascinating conversation I had with David Blanch and Aitor Throup about Umbro kits.
Umbro's design studio is situated in the old textile industry part of Manchester city centre with an entrance fronted by the very old classic Umbro logotype. On entering I was greeted by Tom and Aaron who run Umbro's blog site and shown into a room festooned with choice items from the Umbro shirt archive – bliss! Other attendees included football kit experts from footballshirtculture.com, football-shirts.co.uk and others along with matchworn shirt expert and all round decent fellow Simon 'Shakey' Shakeshaft.
Surrounded by history and some classic old shirts, with plenty from the early 70s, I delved in to see what I could uncover.
Items included a matchworn Sunderland shirt (complete with ripped collar) from the 1973 FA Cup final, early 70s Coventry, Palace and Derby kits, Arsenal's late 70s shirts when they seemed to have a residency at Wembley for the FA Cup and assorted Birmingham, Cardiff and Manchester City jerseys – many in pristine condition. What amazed me was the variety of fabrics, not all just the itchy, heavy cotton we associate with historic shirts, but a range of softer, brushed cotton, airtex and sandpaper-like polyester that Umbro seemed to favour in the early 80s. I think I was so engrossed in the archive I stupidly didn't have the prescence of mind to take more than a handful of photos!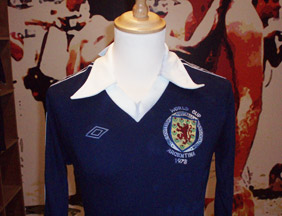 Highlights for me was the big display of England kits and a healthy selection of Scotland shirts including an Alex McLeish matchworn jersey from the 1986 Mexico World Cup finals and what I can only imagine was a prototype of Scotland's 1978 Argentina World Cup shirt that featured a different collar and 'double diamond' Umbro taping on each sleeve rather than the 'filled-in' version that was worn.
I was then introduced to David Blanch (pictured below), the chief kit designer at Umbro who spoke at length about kits to me. It was great to talk to him and he was very open and frank about the designs Umbro are producing. Aside of his obvious knowledge of kit history, what did strike me though was his immense passion for the subject. It is clear that he and all of the Umbro design team put a HUGE amount of effort and work into these designs, they are not things that are just slung together! David was keen to stress that he doesn't just design for the pitch, he doesn't just design for replicas, he designs for football.
Of course, first topic of conversation was the England strips.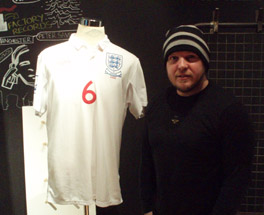 The main design philosophy behind the current white England home kit was one of fine tailoring being used to help bring confidence to the team. David used the analogy of wearing a suit compared to casual clothes and how different that can make you feel. The principle is the same on the football pitch. With a precise, tailored approach with each kit designed to fit specifically for each player (no more problems for Peter Crouch whose shorts often used to have to extra material added on afterwards to lengthen them) so that each one looks his best and hopefully plays his best. The tailored fit of the outfits is designed to intimidate the opposition as well. Fitting in with this philosophy is the idea of simple classic designs. No more ever intricate flimsy, minimal necklines, David is a fan of collars, crew necks and V-necks – the staple diet of football shirts. All unnecessary elements have been removed so that just simple colourways are left. I explained my dislike of the large white flashes and panels that have been used on nearly every kit over the past few years and unbalance teams' colour schemes. It seems these were used primarily to highlight where different, hi-tech, breathable fabric has been used. Umbro's thinking now is that we all know hi-tech, wicking fabric is used in kits, there's just no need to keep highlighting it. They are returning to simple, solid colour with minimum distraction. Self-assured confidence in a good design.
The white shorts that form part of the current England outfit were also introduced to give the players height and again, confidence. The reason for the tonal badges and Umbro logo on the shorts was purely to bring all attention up the badge and Umbro logo – that is where the focus is.
David is clearly (and rightly) very proud of the England home shirt as it has effectively 're-booted' kit design, scrubbing out all the complex, fiddly kits that preceeded it and almost started again with a fresh approach to football apparel. It's ultra modern with all the contemporary technology you would expect and yet at the same time it is true to the heritage and history of the side wearing it. Surely this approach is the kit ideal of all football fans?
We also discussed the subtle differences that differentiate a player's shirts from replicas that have been introduced to thwart matchworn bootleggers. David can tell an genuine player's shirt at a glance due to the tiny elements he has secreted away in the design. Another giveaway is the fact that the player's shirts are generally much smaller than the average replica version. He also explained how the position of the badge is slightly different on player's shirts to allow for the match details scroll to be included beneath it and still balance with the Umbro logo.
I asked David if he thought England would ever have a third kit again and he revealed that a navy blue England third shirt has been designed for some time and sits under closely guarded lock and key! It could be called on at a moments notice should the need arise but if it ever did see action it is unlikely that replicas would be produced. "I presume you'll be showing us the third shirt today" I enquired slightly cheekily and already knowing the answer! David just shook his head!!
I asked about the various shorts clashes that have been occuring in the Premier League this season and that have caused such debate on the site. As we all now know it seems now shorts clashes just aren't important. Its shirts and socks that count and these are the only kit elements officials are interested in. With this in mind David explained that that the reason Man City and Blackburn for example haven't been donning change shorts is simply to maintain the integrity of the kit. If Man City's kit is blue shirt, white shorts and blue socks Umbro don't want this overall design compromised by changing to blue shorts if a 'clash' occurs.
Talking of Man City, David revealed that the 09-10 third shirt is one of the current favourites in the Umbro team, partly due to the unique positioning and sizing of the sponsor's logo in order to blend in perfectly and not disrupt the design. Obviously the kit is based on City's mid 70s away kit but the sash was switched to the other direction so as not to interfere with the club badge which, in David's eyes, HAS to sit over the heart.
David also sits on a kit advisory panel for FIFA. He explained some of the regulations they have such as restrictions on the number and size of flags that can appear on a kit. This rule lead to problems with England's 05-07 home kit where Umbro had to convince them that the red flashes on the shoulder were not in fact the St George's cross but primarily just a design element.
As you can imagine it was fascinating conversation. I later also spoke with Aitor Throup, design consultant, about England's kits. He is immensely driven with some superb ideas and initiatives and it is clear the influence he has had on the Tailored by Umbro kits. Find out more about Aitor's involvement with Umbro by visiting the Umbro blog. Both he and David were such nice chaps and so friendly and open in their discussions about kits. I also spoke briefly to James, another member of Umbro's design team who told me that they regularly used both volumes of True Colours in the studio when researching ideas etc. I can't tell you how made up I was to hear this! It rounded off a simply superb evening in the company of without doubt one of the most innovative kit design companies around.
Thanks to Tom, Aaron, David, Aitor and James for taking the time to talk kits with us and making us all very welcome.