When I bumped into award winning journalist, kit fanatic and all-round good bloke Jeff Maysh at England's recent Wembley game against Bulgaria and he told me about his planned book on Spurs match worn shirts I couldn't wait to see how it would turn out.
When my signed, editioned copy arrived last week I ripped open the package with eager hands and I have to say the beautifully designed book doesn't disappoint.
Jeff has tracked down nearly all of the key Spurs home shirts (and a few aways) since 1950 – many of them draped with history and with a story to tell. Photographs of each shirt are accompanied by key facts and text explaining more about the shirt and how it relates to Spurs heritage. Its a fascinating read enlivened by Jeff's superb writing thats packed with humour and anecdotes. We learn more about the 'Holsten' sponsorship faux pas from the 1987 FA Cup final and the one-off 2002 Worthington Cup final shirt that was never made into a replica and that apparently cost adidas more to produce than it would have done to manufacture 100,000 replicas!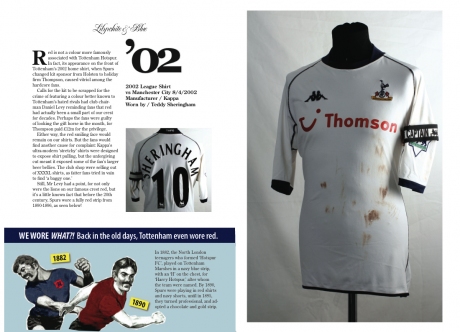 My only slight criticism would be that some of the photos of the shirts are a little on the a dark side, but that aside the book is essential reading for any football kit fan – especially if you follow Spurs! As I said when Jeff asked me for a quote for the back of the book (which seems to be have been replaced by some bloke called Steve Perryman, who's he?!) "this incredible collection gets to the very fabric of the club's history".
Click here to buy – but hurry, this limited edition is being snapped up fast!