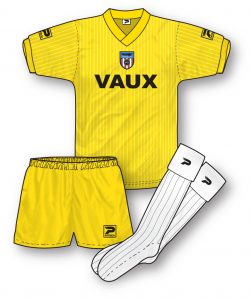 OK, this may not mean much to many of you loyal visitors to True Colours but Sunderland's 1986-88 third kit has become something of a holy grail to me in the last few years. A short while after True Colours Volume 1 was published I was told by a diehard Sunderland fan that I had missed a yellow (or orange as he described it) third kit from the late 80s. It was worn, seemingly, only once in the club's match against Wigan during the Mercantile Credit Festival at Wembley to mark the Football League Centenary. The search began in earnest but after purchasing scores of programmes and routing through hundreds of magazines I was unable to find any evidence of what this kit actually looked like. I knew it was made by Patrick and sponsored by Vaux but that was about it. I made contact with a couple of Sunderland shirt collectors and kit experts but they were unable to help despite having vague memories of the yellow kit being worn in that game. The club themselves had no idea either. Unfortunately the Mercantile Credit Festival was very poorly covered by the football media and precious little footage or photography of the games exist. Everytime I met a Sunderland fan the first question from my lips was "do you remember the yellow kit worn against Wigan?". They always shook their heads and looked at me with a slightly bemused expression.
I made a minor breakthrough a few years ago when I found in a Wigan biography a small black and white pic of the game in question with the Sunderland kit displayed. Trouble was it was the back of the shirt and was therefore fairly useless. So near and yet so far.
And then – this weekend I visited a programme fair and picked up a load of cheap programmes. One, a Chelsea publication from 1988, I had picked up due to the great cover depicting a Brighton away kit. When I flicked through the programme on returning home my jaw dropped in amazement when I discovered on page 25 in glorious colour a full frontal view of the elusive yellow Sunderland third kit that I had searched for all these years!! A completely serendipitous surprise!!! Another surprise was to see that the yellow shirt and shorts were apparently worn with white socks.
OK, fair enough, I know what you're thinking (apart from the fact that I should get out more), the kit IS a bit plain with its lack of contrasting trim and embellishments apart from the shadow pinstripes, but at last I can now complete the gap in my Sunderland kit history.
Worn in: The 0-0 draw with Wigan in the above mentioned Mercantile Credit Festival in April 1988. Wigan eventually won the game 2-1 on penalties.
Worn by: Marco Gabbiadini