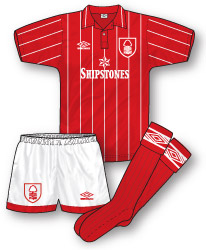 Umbro had produced some fine Forest kits since they reclaimed the club's contract in 1986 but for me this is the pick of the bunch. Harking back to the early 70s trend of non-contrasting jerseys Umbro added an old-fashioned red collar to the Forest shirt and adorned it with elegant pinstripes – a full decade since their first widespread appearance on kits. It was a strip that exuded class and sophistication.
As was the trend at the time the club badge was now housed within a shield and Umbro also featured their new upper-case logotype. The white shorts were trimmed with a broad red band across each hem and the kit was completed by red socks topped off with the standard early 90s Umbro diamond trim.
As well as the regular white shorts, the shirt was accompanied by a smart alternate red pair in the 1992-93 season although the following year the 1991-93 away black pair were worn with the home shirt (although the red pair did make at least one appearance, away at Notts County despite there being no clash). Bizarrely in another blast from the past, the 1990-92 home white shorts design was worn for at least one game in the 1992-93 season, the home encounter against Spurs.
The shirt was also unusual in that it featured two different sponsors' logos during its lifespan. The 1992-93 season saw the side alternate between Labatt's and Shipstones (although replica versions only featured Shipstones). Labatt's were another brand owned by Greenalls, the parent company who had originally purchased Shipstones in 1978. It seems that Labatt's shirts were only worn when the match was live on TV as part of the sponsorship agreement agreed with Greenalls, thereby gaining maximum exposure for a more national brand than the parochial Shipstones.
The kit was worn during a tumultuous time for the club. Legendary manager Brian Clough left the City Ground at the end of the 1992-93 season – a campaign that also saw the 'too good to go down' Forest relegated to Division 1.
Worn by: Stan Collymore (who sported the shirt for press photos on signing for the club in 1993), Roy Keane, Kingsley Black.
Worn in: The 2-0 home defeat to Sheffield United that sealed the side's dismal relegation at the end of the 1992-93 campaign – Clough's last home game as Forest manager.
Buy this shirt now from Vintage Football Shirts