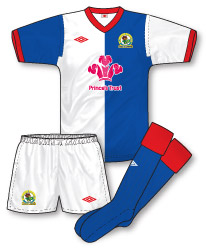 Its always tough to reinvent the Blackburn home kit due to its highly distinctive and traditional halved shirt. But for many designers the more strict the limitations, the more inventive their design outcomes can be. In my view Umbro have hit the jackpot with this Rovers home kit that harks back to the late 70s/80s style of strip complete with bold red V-neck and cuffs and red turnover on the socks. Its about time sportswear companies stopped beating about the bush and integrated red fully back into the Blackburn palette and this bold gesture does the trick perfectly. The rest of the shirt is pretty simple – the only other elements of note are the additional stitched panels on each sleeve where they join the main body – presumably these are to aid movement if Umbro's reasonings behind some of their recent England strips are anything to go by – and the fact that the shirt has reverted to alternating sleeve colours as opposed to last season's sleeves that matched the colour of their respective halves.
Pre-season the Blackburn kits were sponsored by Venkys – a chicken meat processing company and the club's new owners. However by the time the season kicked off their brand had been replaced by logo of young people's charity The Princes' Trust with Blackburn donating their shirt sponsorship this season to the organisation. Although its all for a good cause, unfortunately I would venture that the logo itself doesn't really work on the Rovers shirt as it is barely legible at times and could probably do with a tweak here and there so that people could actually see who the club are supporting on their jerseys.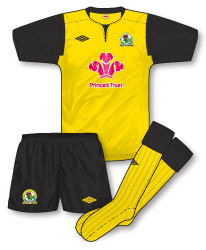 Away from home the club have returned to a yellow change strip and crafted it into a really smart outfit. The shirt features black sleeves and a new minimalist neck design that's cropped up on a few Umbro jerseys this year. The shirt also features the additional sleeve panels that were included on the home jersey. Although I love the kit I think a pity that the side wore red as their main colour last season as a red away kit would have complemented the reintroduction of the colour on the home outfit well (although presumably the red kit will be retained as third colour this season should the need arise). Still, I think the Blackburn kits, while nothing stunning, are another set of good, functional outfits.