Aside from the one-season cycle, I think the biggest threat to the current state of play when it comes to football kits is the increase in poorly conceived away/third kits. Newcastle's rather superfluous current black third kit has come in for some criticism and is a typical example of a change kit crafted from a colour (or at least a shade of a colour) that features prominently on the home and subsequently provides very little colour clash options. Another example in the Premier League is WBA's pale blue away kit (supposedly as a viable change option to their navy and white striped home design) which I've been informed has only been worn once, with their red third kit being preferred.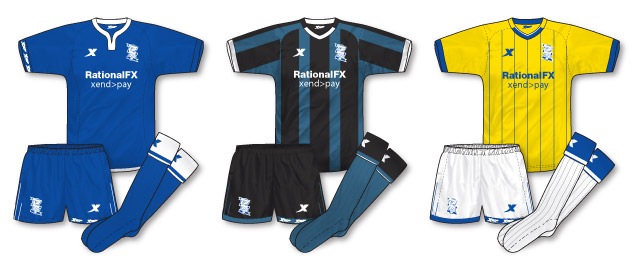 But the most prominent example I've encountered is in the Championship with Birmingham City. Pre-season the club launched a new all-blue home Xtep kit (and very nice it is too) with an away strip of dark grey and teal/blue stripes. My initial thought was that although it was a smart design, did it really give the club a suitable away option against teams playing in blue? Clearly I wasn't alone in this thought as checking through the club's fixtures this season it appears this away kit has NEVER been worn in a competitive fixture. Instead Birmingham have opted for their much more sensible yellow third kit every time a clash occured (eight times so far this season at the time of writing). Ironically, this third kit is officially entitled the 'Europa League Kit' (which also highlights another piece of nonsense, re-naming third kits for purely marketing purposes, but that's a post for another day) yet its seen plenty of action in the league.
Checking on the Birmingham online store, the black/blue striped shirt is still being sold as the away kit with the third, oh sorry, Europa League, kit nowhere to be seen. Its madness!
What's happened? Have the club abandoned the away kit realising that its design will never work against a blue-clad opposition? Or are refs vetoing at every game? Or is their another reason the kits not been worn? There is a rumour that supply issues have thwarted its on the field appearances but I have a feeling, given that a number of supporters have bought replicas, that this may be a smokescreen.
If the reason is due to its lack of ample colour differentiation, it proves that this away kit is simply not fit for purpose and is therefore, pointless. You have to ask how the design ever got rubber stamped.
Also, a quick search online reveals two versions of the away kit; one with stripes on the sleeve and one without. Which is the official, final design? Difficult to tell seeing as its never been worn.
As an aside, I've also noticed that Birmingham wear an all-blue ensemble at home, but away from home in the league opt for white shorts if possible. This curious move indicates that they are clearly "kit aware" when it comes to away fixtures so why make such a mistake with their choice of official away kit.
So whats the answer? There's no denying that the three examples I've mentioned above are all fine looking kits – but are they really viable change options? Wouldn't they be better of being marketed as leisure shirts? The problem is clubs are losing sight of what the purpose of an away/third kit is – namely to provide an effective alternative colour option should there be a colour clash. Its that simple. If clubs persist in releasing these unnecessary outfits (with ever increasing price tags) I fear a backlash amongst supporters may occur.