by Denis Hurley
Clearly, given the subject matter of my previous two contributions on here, the issue of change kits is one that interests me quite a lot.
There has been plenty of discussion about clashes in the various comment threads on the site and so, after more pestering, John has allowed more once more to spout my ill-informed and uneducated opinions.
It's a tough task I have decided to tackle – namely what constitutes a clash, and the various ways clashes are dealt with, while leaving aside the fact that many teams wear away and third kits simply to sell more shirts.
We can all agree that, fairly obviously, if two teams have the same, or very similarly, coloured shirts, a change is required, but what of 'partial clashes', where is the tipping point? If opposing sides have the same colour sleeves, is it allowed? To what extent do stripes cause clashes with solid shirts? And do shorts and socks contribute to a clash?
We shall try to answer these questions, but the real objective is to get a debate going, one which some people will no doubt want to partake in with different views to mine!
For our money, the issue could be dealt with far more efficiently, often it seems as if the person deciding on changes or lack thereof is reading descriptions of the kits rather actually looking at them.
For a prime example of this, look at another code of football, rugby union, where Scotland or Italy always change when they clash in the Six Nations, despite there being no confusion between bright blue and navy blue. The other side of that coin is that changes in England-Argentina rugby games have only become common in recent times due to England wanting to sell alternative jerseys.
While things are not that bad in football, there are some quibbles, though obviously it is ultimately the decision of a referee and each one is different, for example Howard Webb, a World Cup final referee, allowed this game http://www.gettyimages.co.uk/detail/news-photo/jermaine-jenas-of-tottenham-holds-off-steven-reid-of-news-photo/57002770 to go ahead in 2006 when Blackburn failed to bring another kit to White Hart Lane.
The far end of the spectrum in terms of avoiding clashes is seen at World Cups and European Championships, where an avoidance of dark-v-dark or light-v-light is often desired, as well the minimisation of the same colour appearing prominently on both sides' kits.
Even so, there is some inconsistency with this approach. For example, in 2002 England-Brazil was deemed to be a clash but Brazil-Germany in the final was not. More recently, Italy and Spain were both allowed to wear home kits in their two Euro 2012 ties, while Croatia changed from a predominantly white kit to all-blue against the Republic of Ireland, when Ireland in all-green and Croatia in their usual kit would surely have worked better if a contrast was being sought.
The major tournaments do tend to seek to sort what I have termed the 'overall clash', basically where the kit is viewed as one whole rather than three distinct parts. An example of this happening is when Everton would play Leeds and Leeds would wear blue shorts, when staying in all-white would have been a better solution rather than introducing a colour worn by their opponents.
I feel that the shorts and socks can have a big effect, and would cite last Saturday's game between Newcastle and Tottenham at St James' Park. Spurs have an all-white home this season and an all-navy away, with a third ("to be advised", according to the Premier League Handbook) set to be black and grey, so a satisfactory solution was always going to be difficult.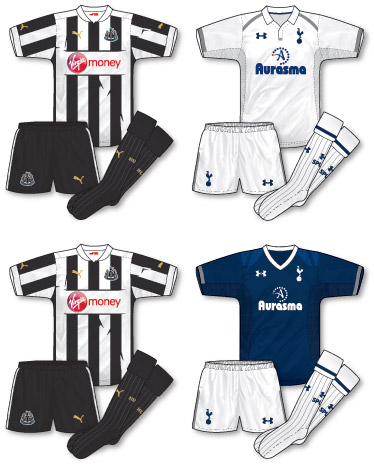 If Newcastle's home still had a mainly black back, I would have felt that all-white was fine, but as it is the back is white, so Spurs in navy-white-white had potential for confusion. It brought to mind, but was not as bad as, Newcastle's cup game with Tranmere Rovers in 2000, when the Toon's changing of shorts made a bad situation worse (http://www.gettyimages.co.uk/detail/news-photo/andy-parkinson-of-tranmere-rovers-challenges-aaron-hughes-news-photo/1521399).
Striped shirts against a team with the colour of one of the stripes is allowable in my book, once the short and socks do enough to differentiate. Watching Celtic in their narrow hoops recently made think that they could play a team in all-green without a change, but if they had green shorts or socks then this would not be possible.
The overall clash is far more important than comparing teams's shirts, shorts and socks separately, in my view. I would allow Arsenal and Barcelona to play each other this season in their home kits, and while I would stop short of letting Liverpool and Ajax do the same, if Ajax's stripe was narrower it could work.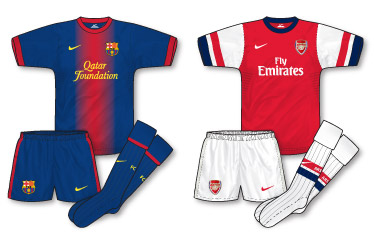 On the subject of sleeves, Arsenal have often changed against sides in white (though only once against Spurs), and some referees, particularly in the League of Ireland (http://en.wikipedia.org/wiki/Anthony_Buttimer), have a problem with it. It was therefore very surprising when, in the 2010-11 season, Arsenal wore yellow away to Blackpool despite having theoretically retained the previous season's navy away a third choice.
On stripes v stripes, I would retain the same view regarding the shorts and socks, for example Stoke in white shorts and socks against Newcastle in black shorts and socks is manageable, but the Tyne-Wear Derby is somewhat more problematic.
For a time the away side would change but to the best of my knowledge this has not happened since the early 90s, though last year Newcastle apparently wanted to wear their orange away (http://www.wsc.co.uk/weekly-howl/1004-2011/7641-weekly-howl-19-08-11), not considering how this would impact against a side in red and white.
And maybe that's the bottom line, that there is not enough thought put into the whole thing. At least it gives us kit aficionados something to talk about.