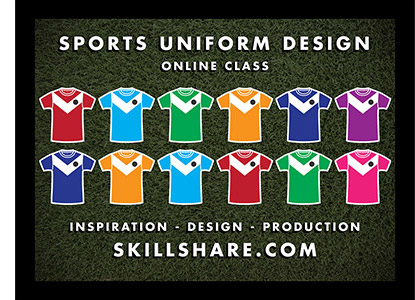 I was fortunate enough to interview the then Nike kit designer Stewart Scott Curran a couple of years ago on all matters concerning football kits. (Missed it? Read it here) Since then Stewart moved on to Umbro and more recently has been working in the States on even more exciting projects.
The good news is that Stewart has made his talent and kit expertise secrets available for all to partake in as part of a sports uniform/kit design course on Skillshare.com – an online global community based around creativity, collaboration and learning. Its an absolutely fantastic resource and can help you really get to grips with professional kit design.
The good news is that Stewart has very kindly offered a massive 50% discount for True Colours visitors! Simply enter the discount code 1STHALF when prompted.
To find out more and visit Stewart's course click here
Good luck, I'd be really interested to see the results!