Wow – its been quite an eventful few weeks in the football kit world. Prompted by the buzz that comes about this time of the year when new kits are launched I've resurrected what I hope will be a weekly round up of kit news and a couple of topics of interest. One of the things that slows down the process of adding new posts is producing kit illustrations but with an eagerness to discuss with you all whats happening at the moment I've decided to plough on without always necessarily a full suite of accompanying illustrations.
Right….first on the agenda…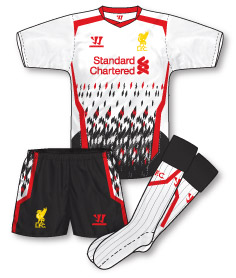 Liverpool 13-14 kits
Goodness me – whats going on at Warrior?! Has there ever been a more schizophrenic approach to kit design that what is emerging from these previously relatively unknown company? This year's strips are following a similar vein to last: classy, respectful, understated home kit clearly constructed by people that have an understanding at what makes a good football outfit. This is accompanied by, lets be frank, a complete dogs dinner of an away outfit.
I must state I have no aversion to bold, controversial designs. Designs that challenge the thinking of the average football fan and re-write the rule books as to what a good kit should be are to be applauded as far as I'm concerned. I'm also ready for a return to patterned designs that liven up a kit world that has in the past decade or so been dominated by single colour, plain designs. Clearly the competition with sponsors, manufacturers logos and ever intrusive competition sleeve patches is growing but a well considered, thought through and skillfully rendered pattern on a shirt can really add something to a strip.
Unfortunately Liverpool's recently launched away kit (and if the leaked photos are to be believed, the third as well) have none of these qualities. They are quite frankly a mess 'plumped up' by ridiculous PR/marketing spin that attempts to justify the design. The red neck is apparently inspired by the red v-neck of the classic Liverpool away kit of the late 70s/early 80s – nonsense! Its red. Thats where the similarity ends. The garish pattern at the bottom of the shirt is inspired by the club's late 80s silver away kit – nonsense! Both include a diamond shape. Thats where the similarity ends. Top all this off with dated red flashes, mismatched manufacturers logo and club badge and you have a very poor kit indeed.
My biggest problem with all of this though, as my Twitter follows will no doubt testify, is the complete lack of unity between all three of the club's kits this year. OK, not every away shirt has to be a reversed version of the home but there should always be some sense that they belong to the same set of kits for the same team in the same sport. Warrior's away kit is so alien to the home it could easily belong in another sporting sphere altogether.
I have heard that the home kit and the away/third kits have been designed by different design teams within Warrior. This doesn't surprise me and goes some way to explain the lack of cohesion between the strips. I've also heard that the person responsible for the away kit 'left' Warrior a month or so ago. My suspicion is that everyone knows this is a very ill-considered and amateurish design but the process has progressed so far there was no way back. Either way, all of this reflects very badly on Warrior and the club themselves for rubber stamping this strip.
Its not often I speak so forthrightly about a kit as I try to look for the good in all designs and as a graphic design fully realise that design is subjective – there is no right or wrong. But….I am struggling to see the good in Liverpool's approach to kit selection. I would love an opportunity to find out from the horse's mouth quite what the strategy is behind these designs.
Fan Power
Whether its testament to truly bad decisions or simply a reflection of the growing power of social media, there has been several instances in recent weeks of supporters standing up to, demanding and GETTING change to kit decisions.
Everton badge – the new Everton crest doesn't work in my view. It appears to have been designed without any flair or dynamism and appears to be simply a few elements plonked within a shield. Apparently it draws inspiration from history (the old PR spin that is often wheeled out to appease supporters) but in fact omits several key elements beloved to Toffeemen – the latin motto and the wreaths. Apart from the fact that as a brand the design is weak, its the fact that no consultation with Everton supporters has occurred is what has caused problems. Everton fans spoke out and after a 22,000 people signed an online petition the club have agreed to review the badge for 2014-15. Everything has progressed too far for them to withdraw it for 2013-14. If they had previewed the change some months ago before the promotional/marketing machinations kicked in I am sure it wouldn't have been approved.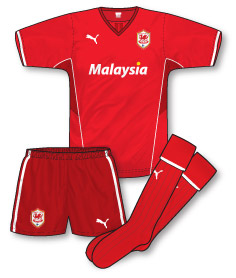 Cardiff City Shorts – Following the furore of the club's switch to red last year the club were planning to do battle in the Premier League for the first time (did the red work?!) in a two tone red design. I've often thought different tones of the same colour could work in a kit, provided its handled correctly. This doesn't appear to be the case with Cardiff as the red shirt is unbalanced and unsettled by a darker tone of red shorts. The fans again were in uprorar and the club backtracked, allowing a vote for supporters to choose on what colour shorts would best suit the shirt. The options were white, black, or red (in the same shade as the jersey). The fact that most Cardiff fans would probably vote for white shorts (provided its accompanied by a BLUE shirt) will be food for thought for Cardiff's owners.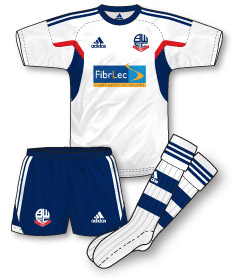 Bolton Wanderers Sponsor – Like so many people I am unsettled by the growing prescence of 'payday loan' companies. And I can only imagine the unease of Newcastle and Hearts fans considering buying their team's new shirts adored with a large Wonga logo. It was then very refreshing to see that Bolton Wanderers have backtracked on their decision to go with Quickquid as their sponsor for 13-14. Again this was due to fan pressure and comments made by local and national politicians. Top marks to Bolton for taking this route of action and for understanding the feelings of the community. Unfortunately the logo of new sponsor FibrLec, a company set up to commercialise the University of Bolton's smart material, should really have gone through some alteration and enhancement to work efficiently on the new shirt but never mind!
Middlesbrough Sponsor
Speaking of sponsors logos causing a problem on the shirt, another example of fan power influencing aesthetic decisions came at the Riverside where Middlesbrough sponsors Ramsden agreed to tone down the impact of their logo. It seems Boro supporters felt the large green block was overly intrusive on the jersey. Now the Ramsden brand is represented by a much neater white logotype. I personally didn't have a major problem with the original but its interesting to note that people were aggreived by the visual appearance of a colour other than their own.
Design by committee does not often work. I know this from experience. However football clubs, in many ways, 'belong' to the fans. Representatives should be consulted in some way about key designs to avoid these sort of issues.
Thats it for now – loads more to discuss but if I went on any more I'm sure you wouldn't get to the end of the post! Let me have your views on the above and the way kit design is shaping up for 2013-14.