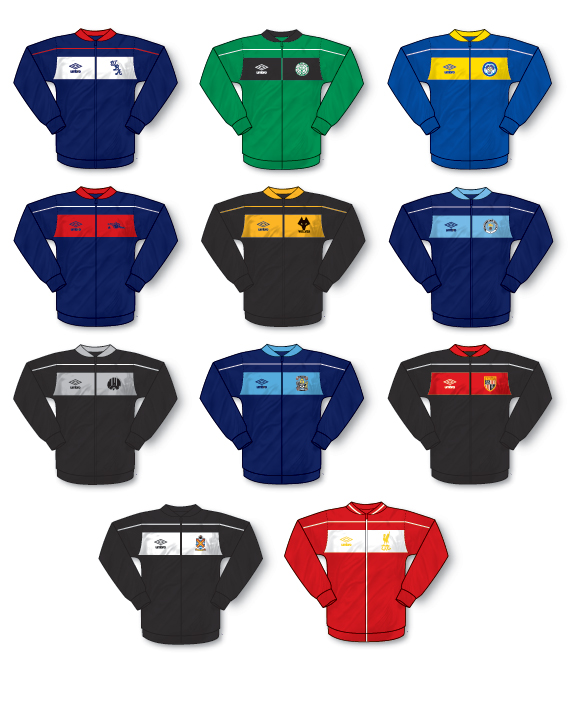 The early 80s were a golden age for football apparel design – not only for kits, but for tracksuits too.
Tracksuits seem to have always been a bit of an afterthought though in the football design world and were, quite naturally I suppose, not viewed with the same importance as the playing strip. This led, in the 70s, to some degree of manufacturer brand inconsistency creeping in with outsider companies occasionally supplying the club with off-field training wear. Its hard to imagine a similar scenario happening today with the fierce control sportswear companies employ over all club clothing.
By the early 80s though this inconsistency became tighter and ranges of tracksuit templates became common place throughout a manufacturer's roster. They were seeing the importance of their brand being visibly and intrinsically linked with their clubs at every level. This led to some superb designs, clean and simple with solid colour blocks, that complemented the regular playing strip very well.
Umbro produced some iconic tracksuit designs for their teams in the early to mid 80s with the pick of the bunch being the range you see above, introduced in 1984.
Starting from top row, l-r: West Bromwich Albion, Celtic, Leeds Utd, Arsenal, Wolverhampton Wanderers, Manchester City, Newcastle Utd, Coventry City, Stoke City, Fulham, Liverpool
Pretty much all Umbro teams sported this tracksuit style at some point for one or even two seasons although other earlier designs did pop up now and then.
I've not been able to find evidence of fellow Umbro teams Bolton, Rangers and Fulham's tracksuit designs at this time although I would imagine they'd follow this template – if any can help here I'd be grateful!
The designs generally took as their base the darkest colour in the club's palette (normally navy or black) and added a chest band that housed the Umbro logo and club badge with piping stretching from each cuff, across the chest and to the zip at the centre. Although I've not found any evidence to support this, I would imagine that the official club sponsor logo was featured on the back. The range was pretty consistent; the piping was always white (Wolves/WBA being the exceptions) and the colours didn't deviate much from the ones used in the home/away/third kits at the time, again WBA being an exception here with their curious introduction of red along. The cream of Umbro's crop, Liverpool, seem to have had special treatment as their collars also included an initial strip of white trim and the zip contrasted against the base colour.
By the late 90s the designs became a little more busy, cluttered and convoluted before metamorphosing into the dreaded shellsuit and the plain and simple style of the humble tracksuit took a back seat.