Like many football fans of my age I grew up enthralled at the football adventures of Roy Race and Melchester Rovers in 'Tiger' comic and later in his own 'Roy of the Rovers' publication.
As a football kit devotee at an early age I must confess to being obsessed with the distinctive Melchester colour scheme of red and yellow and would spend hours drawing fantasy Melchester kits with felt tip pens.
In fact, I wrote and illustrated a piece that archived as many Rovers kits from 1956 to 2001 as I could find a few years ago, click here to read it.
The early 80s saw the side wear their first sponsored kit courtesy of Gola which featured broad yellow and red hoops but its the kit from the previous decade that is without doubt the most iconic Rovers outfit ever; long sleeved crew neck red top, with a single vertical band on the left hand side that continued on the opposite leg of the shorts. The socks featured a single yellow stripe down the front and to top the ensemble of, stylish shirt numbers on each sleeve. In a word, it was magnificent – and fitted in perfectly with the early 70s football kit trends with just a boot in the fantasy world (especially the socks!) It remained unique to Rovers and has since, quite rightly, entered football kit legend.
The basic design was so good that it lent itself easily to later incarnations that decade that featured a wing collar and, for a single season, 1980-81, a v-neck (my personal favourite).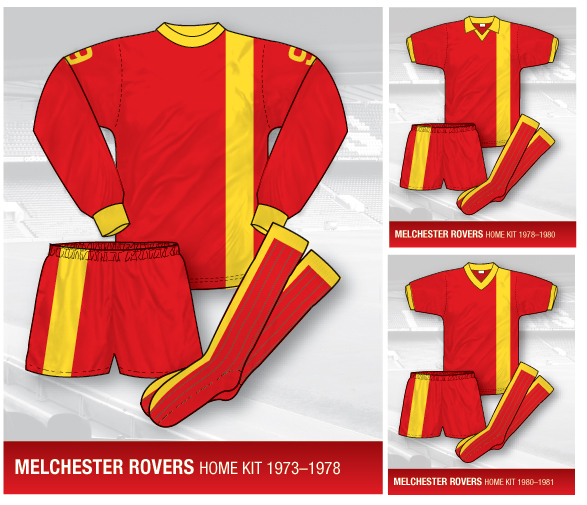 Therefore, I was thrilled when earlier this week I was put in touch with Barrie Tomlinson (thanks Rob Stokes) who tweeted me to say he actually designed this classic Melchester kit! I was even more excited, and honoured, when Barrie agreed to a short interview to say a bit more about this how the strip came about.
——
Hello Barrie,
Thank you so much for agreeing to answer a few quick questions about this superb kit.
Q What was your position at Roy of the Rovers comic in the early 1970s?
A I was Editor of TIGER, then when ROY OF THE ROVERS launched, I became Group Editor of both titles.
Q How did it come about that you were selected to design the new strip?
A It was part of my job to update things and I thought it was time the Melchester strip was changed. One day, I sat down and worked out the design. I wanted something that no other club had and came up with the yellow stripe idea and the general design.
Q Was their much focus from the RotR production team in what the side wore?
A I suppose I was the Roy production team! I would have worked with the writer and the artist on all things Roy.
Q Could you talk me through the design process…for example the decision to ditch the blue shorts, the addition of the sleeve numbers (a possible influence from Manchester City's sleeve numbers perhaps?)
A I wanted to get rid of blue, as the previous strip had red, yellow and blue and it made it difficult to decide what opposition teams should wear. I thought it best that the Roy strip should concentrate on red and yellow. The numbers on the sleeve was just something I doodled in, it wasn't based on any other team. It helped with reader identification.
Q What was the reaction to the new strip from the readership?
A They liked it!
Q Can you remember any details of Melchester Rovers' away strips during your time on the comic?
A Not really. We didn't show too many away strips as I wanted the readers to be able to quickly recognise which team was Melchester Rovers. I can remember a blue one and a white one.
Q Finally, how did it feel to see the legendary kit replaced by the Gola strip in the early 80s?
A I didn't mind at all. I had been wanting to have Melchester sponsored and it worked out well to have Gola on the shirts, within a new design, which was done by Gola but I had to approve it. After a short time, I had to drop Gola off the shirts as some people thought it was unfair advertising in a children's comic! It was even raised in Parliament! All the details are in my current book: "Real Roy of the Rovers Stuff"! Published by Pitch Publishing and now on sale!
Thank you Barrie for taking the time to answer my questions!
Good to talk to you. Thanks for all the nice comments you've made about the strip and the Roy story.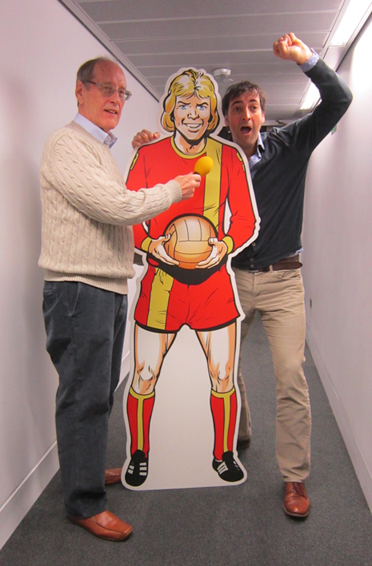 Barrie very kindly sent me a great picture of him (Barrie is on the left, impressionist Alistair McGowan on the right and the legend himself, Roy Race in the centre).
——
Barrie's book 'Real Roy of the Rovers Stuff' is available now – click here to buy from Amazon
You can follow Barrie on Twitter here.