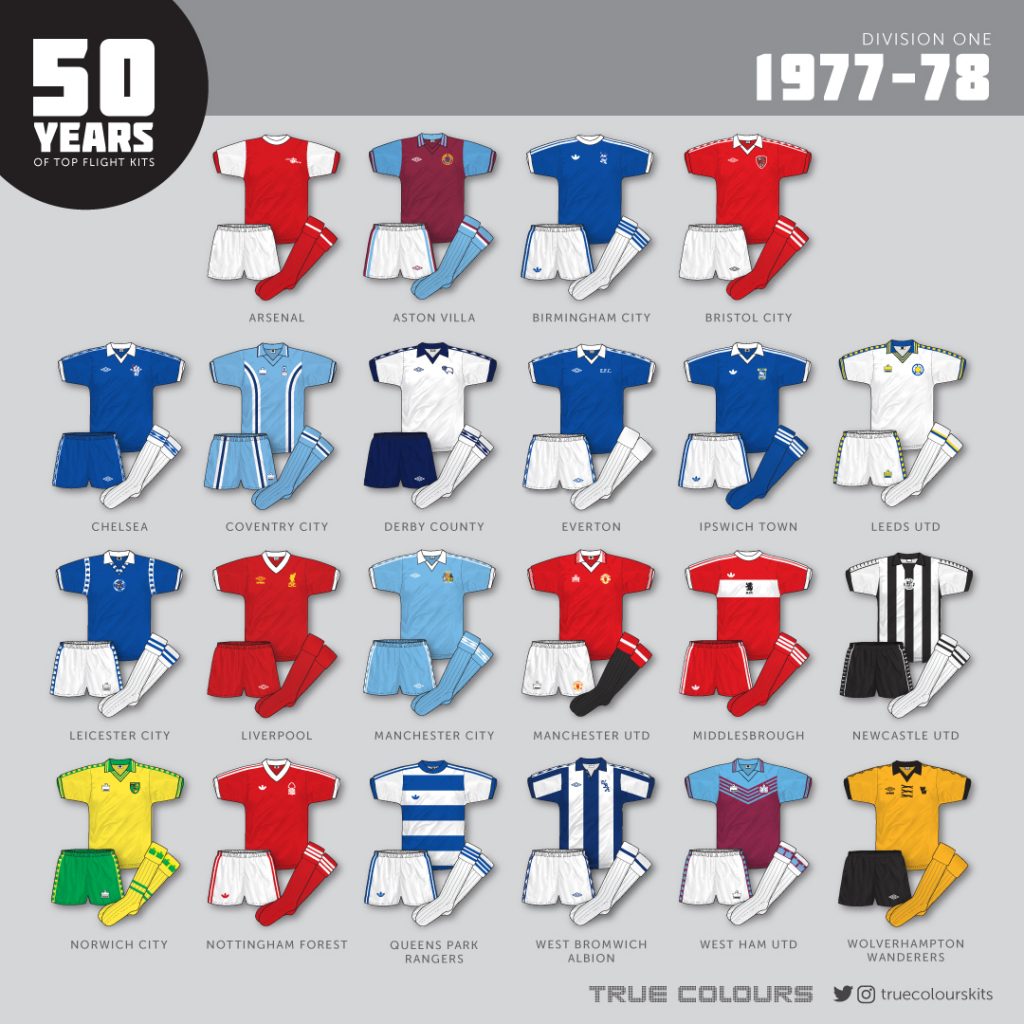 Following their dipping of toes the previous year, this season saw the full arrival of adidas in the English top flight with no fewer than five sides kitted out in three stripes.
Just for the record, the split by manufacturer this season was:
Umbro – 10
Admiral – 6
adidas – 5
Bukta – 1
…with every team bar QPR, featuring a badge on their home shirt. The more observant amongst would note that from the Umbro and adidas kits, only two, Liverpool and Wolves, featured additional wording under the manufcturers' logo. The other notable branding update came from Umbro switching to a more blatantly commercial rendering of the diamond taping that now more closely resembled their regular logo.
Here's a run through, team by team:
Arsenal – No change.
Aston Villa – No change.
Birmingham City – A new deal with adidas brought a smart new strip with a high crew neck and of course the trademark three-stripe trim.
Bristol City – No change.
Chelsea – The new arrivals to Division 1 brought with them a new Umbro kit that featured the brand's new 'double diamond' style taping.
Coventry City – No change.
Derby County – No change as the club stuck with the 'solid diamond' Umbro taping stock (although 'double diamond' taping did feature at least once).
Everton – Updated kit with 'double diamond' Umbro taping.
Ipswich Town – A new deal with adidas and a new collared shirt.
Leeds United – Same as before apart from a regular appearance of the Admiral logo and a new rendering of the 'smiley' club badge. The socks also changed slightly.
Leicester City – No change.
Liverpool – No change.
Manchester City – Updated kit with 'double diamond' Umbro taping.
Manchester United – No change.
Middlesbrough – A brand new adidas kit, with a high crew neck.
Newcastle United – No change.
Norwich City – Shirts and shorts remained the same, but a new multi-trimmed style of sock was introduced.
Nottingham Forest – Brian Clough's newly promoted side sported this fine adidas outfit, opting for a v-neck rather than crew.
QPR – A re-arranging of the blue/white sequence of hoops was the only change this year in QPR's adidas outfit.
West Bromwich Albion – A new Umbro kit for the Baggies saw double diamond taping join slightly thinner stripes and the beautiful WBA italicised monogram.
West Ham United – No change.
Wolverhampton Wanderers – The last of the new arrivals donned a new Umbro design with double diamond taping (although minus the outer stripe) and a new style of WW monogram to join the three elongated wolves in the centre of the shirt.
Nottingham Forest took the league by storm, clinching the First Division title in their first season since their promotion, giving adidas their first league title!
West Ham, Newcastle and Leicester all dropped down to Division 2.