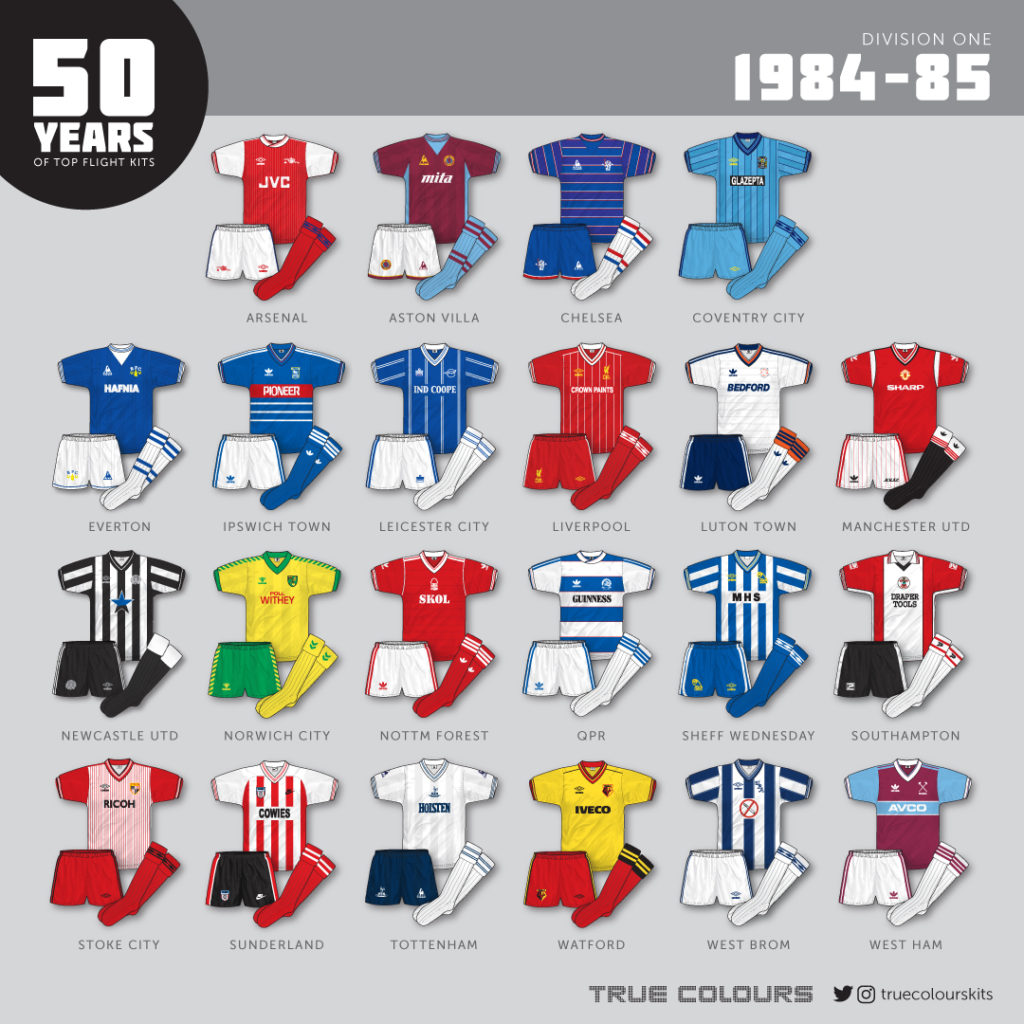 It may just be me, but I feel that after a few years of superb strips, there was a slight drop in quality overall this season.
There were important new designs from Arsenal, Ipswich, Manchester United and Nottingham Forest, none of which really hit the mark in my view. The Utd and Forest adidas kits in particular didn't quite shine as much as their previous kits with the United one lacking real cohesion. I also feel that five seasons in, Southampton's kit was looking tired.
Plus points came in the shape of the great Newcastle United, Sheffield Wednesday and Chelsea strips that made their first appearance in the top flight this year and of course the debut of Hummel with their sublime outfit for Norwich City.
It was the largest amount of different kit manufacturers in a Division 1 season to date.
The manufacturers tally this season was:
Umbro – 8
Adidas – 6
Le Coq Sportif – 4
Admiral – 1
Patrick – 1
Nike – 1
Hummel – 1
Arsenal – A new strip reintroduced a white neck (in the form of a trimmed wrapover crew) and subtle shadow pinstripes. The kit retained the red socks from the second year of the previous strip.
Aston Villa – Villa's Le Coq Sportif kit stayed the same apart from a shuffle of shorts. Now the white shorts from the club's previous away kit were first choice in a more traditional combination.
Chelsea – More Le Coq Sportif gorgeousness in the shape of this two-tone blue Chelsea kit, trimmed with white and red that had been introduced the previous season while the club were in Division 2. Chelsea's popularity was suffering due to a perceived hooligan problem and the bull in a china shop approach of controversial chairman Ken Bates. This may have been the reason why the club failed to find a sponsor this year.
Coventry City – No change apart from a new shirt sponsor, Glazepta.
Everton – No change.
Ipswich Town – Hints of adidas' current French kit here at Portman Road, but the design didn't have quite the va va voom of the France outfit. A red chest band was joined by three white stripes.
Leicester City – No change.
Liverpool – No change.
Luton Town – Another adidas Luton classic in the shape of this very smart design. Sophisticated horizontal shadow stripes were accompanied by just the right amount of navy and orange.
Manchester United – A real curiosity in the Old Trafford kit cupboard, this new Adidas outfit introduced a centralised badge, white shoulder darts and broad trim on the v-neck. There were no 'three-stripes' on the shirt although they were present and correct on the shorts alongside a fine pinstripe trim. A popular kit for fans looking back but as I mentioned above, one that doesn't really work in my view.
Newcastle United – A cracking Newcastle outfit by Umbro saw a solidly modern arrangement of the black and white stripes, sensitive trim and the iconic Newcastle Breweries blue star as sponsor. You can't go wrong with this kit!
Norwich City – A superb Hummel kit launched this season. Hummel's recognisable chevron trim working well with the Canaries yellow and arrangement of shadow stripes. The shirt also featured a new logo from Poll Withey.
Nottingham Forest – Another central badge Adidas shirt arrived at the City Ground this year alongside new sponsor, Skol. Horizontal shadow pinstripes, shoulder three-stripe trim and white piping completed the design which although in my view fared better than the Red Devils' new addition to the changing room, was let down by the central badge.
Queens Park Rangers – No change.
Sheffield Wednesday – New arrivals, the Owls sported this simple but strong design (identical in structure to Newcastle's) with plenty of blue, carefully considered neck/cuff trim and athletic style shorts which oddly didn't catch on.
Southampton – No change apart from the inclusion of new sponsors, Draper Tools. The last year of this kit and the only collar in Division 1 this season.
Stoke City – No change.
Sunderland – No change.
Tottenham Hotspur – No change.
Watford – No change.
West Bromwich Albion – No change apart from one football's oddest shirt sponsors – a no smoking sign! It was actually part of a promotion by the West Midlands Health Authority who put their sponsorship to good use with this positive message.
West Ham United – No change.
The title switched over to the blue side of Merseyside this year with a mighty Everton side wrenching it from Liverpool who finished second. Norwich, Sunderland and Stoke all went down at the end of the campaign.