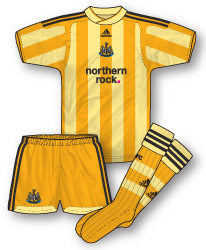 I've never known a kit ruffle so many feathers as the new Newcastle away outfit. Here are just some examples of what the media are saying about it:
http://www.thesun.co.uk/sol/homepage/sport/football/2494933/And-you-thought-relegation-was-bad.html
http://www.independent.co.uk/sport/football/news-and-comment/newcastle-hit-new-low-with-horror-away-kit-1715247.html
http://www.mirror.co.uk/sport/football/2009/06/23/newcastle-united-s-new-away-kit-and-the-worst-football-kits-ever-115875-21465573/
It seems that apart from some really superb designs, 09-10 may be remembered as the year of kit controversies with supporters also up in arms over the new Spurs and Manchester United home kits.
But is this Newcastle kit really that bad?
I must admit I did do a double take when I first saw it – I couldn't believe what I was seeing!
Unfortunately Newcastle do not have the tradition of a standard away colour in the way that Arsenal or Liverpool have. When Arsenal return to yellow and blue it always gets a thumbs up from Gooners who prefer to see this combination away from home. Part of the problem here may come from the fact that quite often Newcastle don't actually need to wear an away kit unless they are playing the likes of West Brom or Grimsby. Recent seasons have seen the side wear their famous black and white stripes away at Spurs and Derby where you would have thought a change kit may have been required.
However, if push came to a shove, yellow IS the colour most Toon fans would like to see as their club's change colours (preferably in the Brazil tribute outfit). For much of the 70s and the late 80s, yellow was worn and often trimmed with green. In fact, Umbro's last yellow and green ensemble was worn when the club clinched their promotion to the Premiership back in 1993. Maybe a yellow and green kit for 09-10 would have been a good omen? Once adidas took over the club's kit supply in 1995 a more sombre palette of blacks, greys and whites were worn. Recent years blues, maroon and purple have been favoured (still in subdued hues) along withthe yellow third kit in 04-05.
I think the issue with this kit is actually a combination of several factors. The bringing together of two shades of yellow (one a rich amber and the other a very inspid yellow) in stripes causes a problem. Would the two shades work better if say the shirt was the pale yellow and the sleeves amber? Perhaps.
Secondly, apart from releasing a new away kit every year since 1995, the club have also started issued a new third shirt every season since 2003 – this could be viewed as excessive considering, as I mentioned earlier, that the team very seldom need to wear away kits. I believe the club's supporters may possibly be feeling a little resentful of this, making the need for decent, considered designs even more necessary in this time of crisis for the club.
Lastly, the timing of such a kit is all wrong. Of course adidas weren't to know when they were designing the shirt (most probably two years ago) that the club would drop down to the Championship for the first time for over 15 years. Such an event causes massive changes to a club of Newcastle's size and stature. It should be a time of consolidation and resolve, a return to basics in order to gather together and fight to get back to the top flight where they belong. This would have been a perfect time to launch an away kit in the colours fans would prefer to have seen – yellow and blue or yellow and green. Even, a blue kit, expanding on the blue trim of the home kit. Simple, functional and proven – just the thing to help the club show that they are determined to get out of the Championship. The club's confidence and self-esteem will be low and will need every boost and inspiration that it can get. This is not a time to launch such a controversial outfit that everyone involved must have known would be a huge risk!
As far as the club is concerned, now is not the time to make the team a laughing stock away from home when so many people will be doing this, revelling in the fact that a big club has fallen. They don't need an experimental kit to give fuel to rival supporter's fire. Although since the rise of the mighty Brazil yellow has proved a very popular away colour with many clubs it can be considered the colour of cowardice. Not what you need when you've dropped down a division.
My opinion? Well, actually the more I see it, the more it grows on me even though I still think the two shades of yellow just don't work as stripes. The design itself follows exactly that of the smart new home kit which will bring some degree of familiarity.
Funnily enough Newcastle and adidas are responsible for one of my favourite away kits of all time (the maroon and navy hooped affair from 95-96) and one of my least (the navy, orange and green strip from 97-98 which I consider to be far more offensive than the new kit. In fact I am reliably informed that this particular kit was chosen by a member of the Toon board – when manager Kenny Dalglish saw the design he apparently declared in no uncertain terms that he did not want to see any team of his wearing it.)
Despite the coward connotations of the new yellow outfit, to wear such an unusual kit is certainly a brave move and that's something I welcome in all forms of design and I think if the club were sitting pretty in the top 5 of the Premier League the strip may not have created such controversy. However, adidas's boldness may backfire when replicas of the shirt go on sale.