It is a fact of life that some of life's more, shall we say, frowned upon pastimes namely alcohol and gambling, are common and important shirt sponsors for clubs throughout the world.
Quite sensibly, recently a return to the 80s rules regarding removing alcohol brands from children's replica shirts has come into force, but there is currently no general legislation preventing alcohol advertising (including shirt sponsorship) in the UK despite calls from medical experts who have, in the past, successfully banned tobacco advertisements.
This is not the case everywhere in Europe though, with France and some Scandinavian countries banning advertisements for alcoholic products by law. This has caused some problems through the years for clubs who draw a side from these countries in European tournaments.
Celtic and Everton have in the past got round the issue by simply removing the logos from their respective sponsors (Carling and Chang Beers respectively) but Newcastle, Liverpool and Rangers have used different solutions.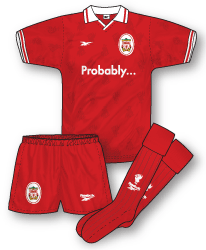 Although they generally sport plain sponsorless shirts when playing competively in countries that ban alcohol advertising, on one occasion Liverpool and Carlsberg undertook a more creative approach. When forced to remove the Carlsberg logo on their shirts during a pre-season tour of Scandinavia in 1997 the club donned versions emblazoned with "Probably…" – the first word from Carlsberg's famous strapline "Probably the best lager in the world". Carlsberg, it seemed, did not want to miss the opportunity to promote their beer in the area of its birth! Only approximately 20 shirts were produced with the "Probably…" logo and are now, of course highly prized collectors items.
Newcastle and Rangers have been sponsored by Scottish and Newcastle Breweries at times in the past couple of decades. Newcastle of course sported the brewery's Newcastle Brown Ale logo and Rangers, McEwans Lager.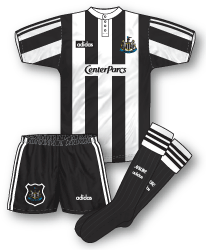 Incidentally, Scottish and Newcastle Breweries also used to own holiday complex Center Parcs and when the company was forced to remove their alcoholic brands from the Newcastle and Rangers shirts during games in France they chose instead to replace them with the Center Parcs logo.
In Newcastle's case this happened against Monaco in the quarter final second leg of the 96-97 UEFA Cup when the Toon lost 3-0.
Rangers have actually sported the Center Parcs logo during the course of two seasons. It was first worn in the 96-97 Champions League match at Auxerre that the French side won 2-1. Then in 97-98 a new style Center Parcs logo was worn in the UEFA Cup first round first leg game in Strasbourg where again the 'Gers lost 2-1 (also wearing their change blue shorts).