Sorry for the over-riding white theme in this latest batch of 09-10 kits…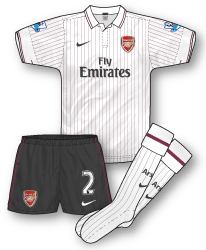 Arsenal Third Kit 09-10
First up is the new Arsenal third kit. Unlike recent seasons surprisingly last season's popular yellow away was not retained as third choice for 09-10 and instead a white version of the navy away kit has been unveiled. It mirrors the design exactly with redcurrant pinstrips replacing the pale blue ones of the standard away. As with the away kit the pinstripes on the sleeves continue on the shoulders and form a horizontally pinstriped panel on the back of the shirt where the player's name will sit. Instead of pairing the shirt with redurrant shorts Nike have plumped for "anthracite grey". I'm not sure how well the grey shorts go with the jersey to be honest and I would have preferred a redcurrant or white pair.Looking at the shirt in a sports shop the other day I was struck by the slightly scratchy fabric. Not as comfortable I would imagine as some other recent kits.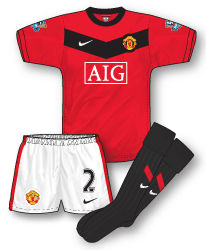 Manchester United Home Kit 09-10
A controversial design from Nike. The new Red Devils kit, that unlike the previous strip will only be worn for one season, has ruffled a few feathers with a large black chevron across the chest. The red also seems slightly pinkier than usual. Its another conceptual affair from Nike and commemorates 100 years at Old Trafford. The 1909-10 Utd team sported a kit with a chevron although it was red on a white shirt – perhaps switching to white this season would have been a move too far! I can understand why it might take a bit of getting used to but the heavy use of red and black just screams Man Utd to me and I think its a very threatening and intimidating outfit. This will be the last Utd shirt to feature AIG as sponsor although many believed the logo wouldn't last as long as 09-10 due to the US company's financial problems.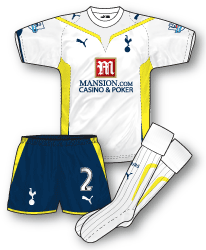 Tottenham Hotspur Home Kit 09-10
Another controversial kit is this unpopular Puma design for Spurs. The standard 09-10 Puma template is not the problem with fans though – its the fact that the prominent second colour is yellow! Its part of a campaign from Puma entitled "Glory comes in three colours" with navy the away colour and yellow third. However, Spurs supporters are up in arms over the the yellow flashes on the home jersey and an online petition to have the kit ditched has reached over 3,000 signatures with fans threatening a massive boycott of replica versions. I think they may have a point. Yellow is a Spurs colour though and has featured on several home kits over the years but never in as prominently as on this one. Its a brave design move and in the days of one-season kits an attempt to try something new. Sadly, it looks like its not going to be a success.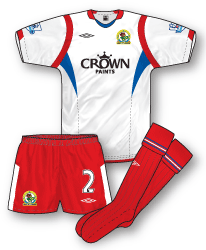 Blackburn Rovers Away Kit 09-10
Umbro have taken a radical approach with Rovers' new away, opting for a predominantly white jersey with healthy dashes of red and blue. There's a real variety of designs coming from Umbro this season that surely must please the anti-template brigade. Personally, although I like the design I do have an issue with away kits that don't form a viable alternative to the home and this outfit falls right into that category. With Blackburn's home shirt being, famously ,half-white, is this really a suitable change strip?