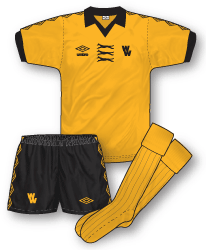 As with many kits in the 70s the Wolves Umbro home outfit during the second half of the decade went through only very subtle changes over a period of years. One variation that just missed inclusion in Volume 2 of True Colours was the home kit worn from 1977-1979 featuring the additional three elongated wolves motif across the centre of the chest. Quite why the club felt the need for an supplementary badge to accompany the simple WW logotype is unknown but its inclusion definitely gave the design a majestic lift. The kit also featured the 'new' double diamond Umbro logo (replacing the text version of the previous 3 seasons) and diamond trim on each sleeve and on the shorts. When the kit was updated two years later with the now familiar angular wolf's head badge the three elongated wolves were dropped and despite the club's relatively exclusive colour scheme the kit became just a bit more ordinary.
Worn in: Consecutive home wins against mighty Manchester United (2–1) and midlands rivals Aston Villa (3–1) towards the end of the 77–78 season. Also worn the following season in the 2–0 defeat to Arsenal in the semi-final of the FA Cup.
Worn by: George Berry, Derek Parkin and Peter Daniel.