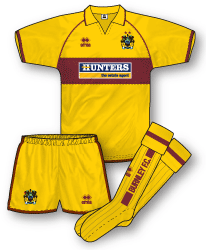 Back in January 2007 I was very honoured to be asked by the Football League to be one of their judges in the Best Kit Design section of the 2006-07 Football League Awards. With great excitement I travelled up to their London offices and sat down with a mixed group including the publisher of FourFourTwo and various League individuals to judge the kits. We all discussed the many designs together and then marked them up privately. The unanimous winner was this Errea-produced Burnley away kit. Although it was a simple yet stylish design it was really the rich blend of amber and claret that swung it for us. Its a relatively unusual colour combination but it really worked – and it was unmistakably Burnley. Plus the unique socks went down very well!
Worn in: Seemingly almost every away game that season. Sadly, few wins for Burnley though. The most notable being the late 1-0 victory over eventually promoted Birmingham City.
Worn by: Michael Duff, Andy Gray, Chris McCann and Kyle Lafferty.