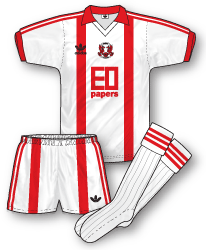 Like Birmingham's Penguin or Middlesbrough's chest band, for me Orient's 'braces' kits are distinctive and iconic and I believe they should always play in them! Introduced in 1977 by Admiral the design was updated nicely by adidas in 1980 complete with large wing collar. The club's first sponsor, Everard Ovenden, (Epping-based paper merchants) appeared on the jerseys in 1981. The kit was produced in a simple reversed version for the away kit and also in blue and white for a third kit. At the time Orient (the 'Leyton' wasn't reintroduced until 1985) were struggling in the old Division 2 and were eventually relegated at the end of 81-82.
Worn in: A superb 4-0 win over fellow Londoners QPR but also a 2-0 defeat to West Ham in an East End local derby (both 80-81).
Worn by: Stan Bowles, Ralph Coates and a young John Chiedozie.