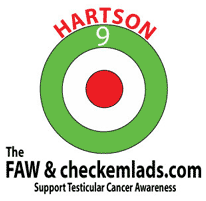 One of the things I love about football shirts is the potential they have to communicate messages and stories away from their regular usage as apparel on the pitch. I recently blogged about Cesc Fabregas' shirt tribute to Daniel Jarque and I heard today from Welsh football shirt collector and cancer awareness campaigner Simon 'Shakey' Shakeshaft about the recent tribute paid by the Wales national side to former international player John Hartson.
I'm sure most football fans are aware of Hartson's recent struggle with cancer. He was released from hospital the other week (but will continue his chemotherapy though) but things looked very serious for him at one point.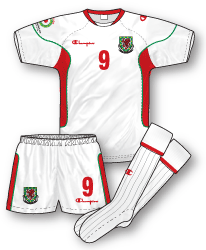 Shakey, who works closely with testicular cancer charity checkemlads.com explained about the new John Hartson Foundation the organisation are setting up in order to promote awareness of the disease. He also informed me that the Football Association of Wales (FAW) granted special permission for the Wales team to wear special John Hartson/checkemlads.com sleeve patches for their recent friendly game against Montenegro.
I think its great that football shirts can be used in such a positive way and in such a show of strength for a man and his battle against cancer. Its all credit to checkemlads.com for starting the scheme and the FAW and everyone involved for supporting it in such a brilliant way.
To find out more about checkemlads.com and the brilliant work they do click here.
To find out more about the FAW and their support for John Hartson click here.