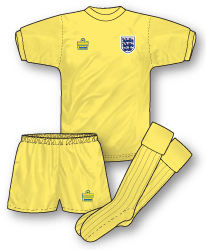 Although we all know England in white, red and occasionally blue (or even grey!) it is very rare to see them in yellow but it has happened on a few occasions, most recently during the 1976 USA Bicentennial Cup where they wore this Admiral outfit. The Bicentennial Cup was a friendly tournament celebrating the anniversary of American Independence and featured England, Brazil, Italy and a Team America side (captained by England legend Bobby Moore and including Pele) in a handful games across the states. This all-yellow England kit was adorned with Admiral logo and England badge but otherwise was a rather plain, and thanks to the very pale yellow, an insipid affair. To be honest, it was a mystery why it was even worn as both England's kits provided adequate colour options. Whatever the reasons, England have never been seen in yellow since.
Worn in: A 3–1 win over the Team America side – the only time the strip was worn (although the socks did make a reappearance in the game against Brazil). Unlike their Brazilian and Italian counterparts, the English FA treated the match only as a training game and did not award caps.
Worn by: Gerry Francis, who captained England in the match.