Posted by John Devlin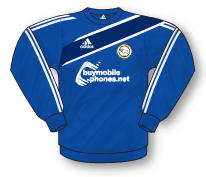 Whilst watching highlights of a Derby County match the other day I was surprised to notice the appearance of a sponsor's logo I didn't recognise on the front of Nigel Clough's sweatshirt. The Rams regular shirt sponsor is train/aircraft manufacturer Bombardier with Greenbank (producer of optimisation products for coal-fired boilers apparently) sponsors on the back of the shirt and the shorts.
But Derby now also have a third different sponsor appearing just on their training kit: online mobile phone dealers buymobilephones.net.Their logo appears on the adidas tiro training jersey and sweat top with a smaller version on the track suit.
Maybe I've missed other incidents of training kit sponsorship but, this is certainly the first time I have encountered this kind of exclusive deal within the Football League but I dare say it is likely to become more common as cash-strapped clubs will aim to squeeze as much revenue as possible out of their apparel.
Posted by John Devlin
I've just posted a Kit Cupboard special feature on Admiral in the 70s.
Read it in the articles section of the site here.
Posted by John Devlin
Anyone who follows football kit history will be aware of the massive impact Leicester-based sportswear firm Admiral had on kit development, design and innovation in the 1970s.
Pioneers of the replica market through deals with the England and Leeds United teams, Admiral brought their shirts into the every playground in the land. Their bold, some might say brash, designs were instantly recognisable – helped no doubt by the liberal sprinking of Admiral logos on sleeves, shorts, socks and even collars.
I wanted to pay tribute to the company who virtually invented the modern kit.
This is a selection of Admiral kits from their golden era of the second half of the 1970s. Many, if not all, of these kits went through minor cosmetic changes during their lifespan; trim changes, new socks, movement of badges etc. but virtually all are now iconic additions to each club's kit canon.
If you have information of any additional Admiral kits from the 70s (e.g. early Leeds, early Sheff Utd,Bradford, Dundee) not illustrated here then please contact me and I will add them over time.
Thanks to John Bailey, Andy Burton, Chris Oakley, John O'Cahan, Mike Reid and Steve Dickie. Extra special thanks to Steve Browne.
Posted by John Devlin
Thanks to various commissions I've been drifting away from British leagues' kits just lately and focussing on the Bundesliga, La Liga, Serie A and the Champions League. I'm not the world's biggest expert on foreign strips so I've found it fascinating looking at the different designs and especially colour schemes, favoured on mainland Europe. One of the biggest surprises was the prevalence of green in Germany's top flight with Wolfsburg, Borussia Monchengladbach, Hannover and Werder Bremen all wearing the colour. Very strange considering in England we only really have Plymouth who sport green. If anyone's got any theories behind this I'd love to know.
Its also interesting to see who are the most favoured kit manufacturers. Germany has several, of course, adidas and Puma designs but also plenty of smaller companies. Italy is the biggest eye-opener with quite a few Macron and Errea (both Italian firms) kits. Funny as in the UK both companies have come in for some criticism from supporters over the quality of their products.
One of my favourite kits in the Bundesliga is the VFL Bochum home kit – look out for a Kit Cupboard feature on this soon. Incidentally, I've just added a new Kit Cupboard article on Luton Town's current home kit. You can read it here: http://www.truecoloursfootballkits.com/articles/the-kit-cupboard-luton-town-home-kit-2009-10
Another mystery is why certain Champions League teams still insist on adopting new home colours as first choice in the competition. I'm thinking primarily of Marseille and Lyon. If anyone can clear this up and let me know for sure what these club's first and second choice kits are in the Champions League I would be very grateful.
The Marseille kit is a real oddity – it features the standard adidas template as favoured by Middlesbrough and Derby amongst others this season but seems to be constructed from a sort of shiny, plastic fabric complete with fingerprint pattern. It's certainly one of the strangest looks I've seen for a while.
Last week, I had the pleasure of attending the Southend vs Leeds match (followed by a top notch curry). The seats were right on the side of the pitch so not the best for watching the action (a 0-0 draw, so there wasn't that much drama!) but great for seeing the kits close up! Its amazing how you get a different perspective on kits when you see them in action. Southend wear a smart navy blue version of the Nike template sported by Aston Villa but the Leeds Macron kit is not so impressive in the flesh. Very baggy, it looks 5 or 6 years out of date. Comparing it to the Serie A Macron kits it is worlds apart. They seem bang up to date and very contemporary.
I'm working on plenty of new features for the site – still in the process of adding the True Colours books' kits – this will take some time – but I hope to soon be finishing the Admiral feature I've been working on and adding some new kit history sections.
Finally, I was recently asked to contribute to a Leicester City fansite, www.bentleysroof.co.uk. Its a great site with a healthy interest in kits. This is the piece for which I donated some graphics:
www.bentleysroof.co.uk/classic-city-kits-the-admiral-twin-pin/#more-1495
Thanks again for everyone who entered my recent competition – there will be another soon…
Posted by John Devlin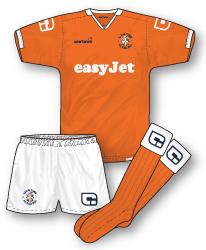 Like many football fans of my age I was sad to see Luton Town leave the Football League at the end of 08-09, they have certainly been a part of the football landscape I am familiar with. The club will start their non-league life with a fresh start kit-wise in the shape of this new Carbrini outfit. The kit raised eyebrows as it is sees the club's regular white shirts relegated to a change strip with orange (last worn regularly in the 70s, although it was sported in the 99-00 season) promoted to first choice. Could this change in colour have anything to do with the arrival of Easyjet, long time inhabitants at nearby Luton Airport, as new shirt sponsors? Its not a bad looking design although inevitably it will draw comparisons to Carbrini's orange Blackpool shirt.
Posted by John Devlin
Thanks to everyone who entered my recent competition to name the 5 Championship away kits illustrated without the telltale badges and sponsors logos etc. There were simply loads of entries – the answers are as follows:
KIT A – Barnsley
KIT B – Reading
KIT C – Preston North End
KIT D – Watford
KIT E – Scunthorpe
Bit easy really as EVERYBODY got it right!! (The next competition will be tougher!).
The winners are: Seb Patrick (nice choice of kit Seb!), Mark Jessop, Rich Johnson, Adam McCombie and Nick Jackson. I'll drop you a line soon and get your prizes sorted out.
Thanks again everyone for entering.
Posted by John Devlin
I've recently been commissioned to produce some graphics showing 09-10 Coca Cola Championship home and away kits minus badges, sponsors logos etc. After looking through the finished work I thought it might be fun to use a few of them in a little competition to win a framed, top quality postcard sized True Colours-style illustration print of the kit of your choice.
All you need to do is tell me which five Championship clubs the following 09-10 away kits belong to:
Use the form below to list your answers – don't forget to let me know the kit you would like printed and framed if you win – by the way, it doesn't have to be one I've already produced for the books/site.
The first five correct entries win the prize.
Good luck!
Posted by John Devlin
I was extremely flattered to be recently asked to contribute a blog for Umbro. My first posting has just been published and can be read here: