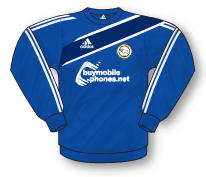 Whilst watching highlights of a Derby County match the other day I was surprised to notice the appearance of a sponsor's logo I didn't recognise on the front of Nigel Clough's sweatshirt. The Rams regular shirt sponsor is train/aircraft manufacturer Bombardier with Greenbank (producer of optimisation products for coal-fired boilers apparently) sponsors on the back of the shirt and the shorts.
But Derby now also have a third different sponsor appearing just on their training kit: online mobile phone dealers buymobilephones.net.Their logo appears on the adidas tiro training jersey and sweat top with a smaller version on the track suit.
Maybe I've missed other incidents of training kit sponsorship but, this is certainly the first time I have encountered this kind of exclusive deal within the Football League but I dare say it is likely to become more common as cash-strapped clubs will aim to squeeze as much revenue as possible out of their apparel.