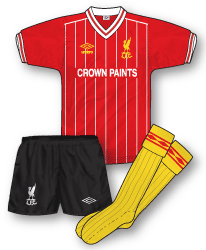 All this recent talk of change shorts/socks bought to mind a rather bizarre mismatch of a kit that Liverpool wore back in the 83-84 season against Watford. The Hornets' yellow shirts, red shorts and red socks clashed with both Liverpool's home outfit and their all-yellow away. Instead the club paired their home shirt with the yellow away socks and the black shorts from their previous away kit. Quite why they didn't opt to resurrect their previous white/black away kit in its entirety is a mystery as it certainly would've looked better than this combination!
The all-red Liverpool kit is pretty much untouchable and this was, as far as I'm aware, the only time thire red shirt has been worn with anything other than its traditional red shorts and socks.
Worn in: The aforementined away game at Watford in the 83–84 season. The match ended in a 2–0 win for Liverpool.
Worn by: Alan Hansen, Graeme Souness, Sammy Lee.