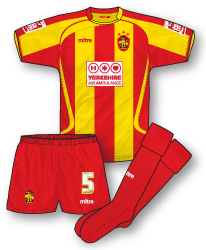 There's been loads of special charity shirts worn by clubs in the past few years. I've referred to a few of the higher profile ones in my recent article for the Umbro blog site.
But this worthwhile trend is also prevalent in the lower leagues. One of the most recent examples is this fine Huddersfield Town kit worn in their January 2010 home clash with Southend United. The club replaced their traditional blue and white stripes for the red and yellow colour scheme of the Yorkshire Air Ambulance to whom the Terriers have generously donated their standard home sponsorship package for the next three seasons. Its all part of the 'Keep It Up' campaign designed to raise the £7,200 a day needed to keep the lifesaving air ambulance service in operation.
The Mitre outfit followed the same design of the home and also included a red and yellow version of the Town badge. As with all similar kits special permission had to be sought from the Football League to wear the kit. Replica versions (all for the cause) are available from the club shop.
Worn in: The 2–1 win over Southend United
Worn by: Robbie Williams, Jordan Rhodes and Antony Kay.
To read more about the appeal and to lend support visit www.yorkshireairambulance.org.uk.
Thanks to Mark Jessop for the suggestion.