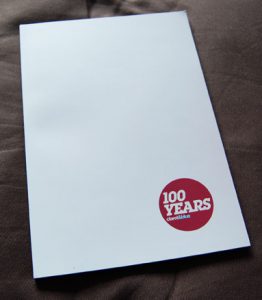 Burnley are this year celebrating the 100th anniversary of their switch to claret and blue in 1910 after experimenting with a vast array of colour schemes prior to that date. To mark the occasion the club have staged an exhibition in Burnley's Towneley Hall with all 34 different shirts on display. In conjunction with the exhibition a special 84 page colour brochure has been produced. Burnley's just a little too far for me to travel but I snapped up a copy of the '100 Years of Claret & Blue' publication eagerly from the club shop. I was delighted when the book arrived next day and on opening the package was very impressed by the look and feel of the publication.
No shorts or socks, but ever claret and blue shirt worn by the club since 1910 is portrayed beautifully in photos depicting the shirts on mannequins. The design of the brochure is superb with details of when the shirt was worn, manufacturers and material (very interesting!) along with what the club describe as a 'biography' of the shirt. Although it looks great, my problem with the text that accompanies photo is that it falls into the old trap that many football shirt literature does and merely details what was going on at the club when the shirt was worn and, with few exceptions, doesn't offer much background in to the shirt style or design itself. It was a trap I was determined to avoid in True Colours – I wanted the kits to be the main focus of the text along with putting the outfits into historical context. If you're producing a book about team shirt history it makes sense to write about the shirts themselves! Anyone wanting a history of Burnley FC could choose from plenty of other books.
So although the book looks superb and there's few ways I'd rather spend an hour or so than studying superb photos of past kits it was let down that there's nothing in the book about how football fashion has changed through the years, the story of Spall taking over from the long serving Umbro, why EN-S decided to move the club badge to the right breast or the reasons behind Super League's ultra-retro effort in 2000-01.
Its great to see a club celebrating their kit history – this was one of the major reasons for starting the True Colours books as I found it strange that most sides don't seem to be remotely interested of their kit past – but I'm afraid the lack of facts about the shirts themselves means that this publication is a slightly wasted opportunity. Still well worth £5 though!
For more details of the exhibition click here.
To order the book directly from the club eagerly here.