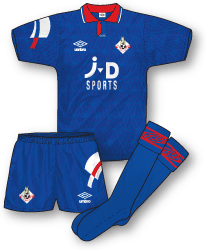 Oldham Athletic were a founding club of the Premier League back in 1992 and were just one of a plethora of Umbro-supplied teams in the top flight that year. That season saw the club wear this rather elegant all-blue outfit that had been introduced a year earlier. Umbro included mysterious asymmetrical designs on the right sleeves of most of their teams in 1991 and this Oldham shirt was no exception. But in the case of the Boundary Park club these curious markings combined well with the red collar, OAFC monogram and tasteful shadow pattern and made for a great looking strip.
The shirt was sponsored by construction firm Bovis in the 1991-92 season before being replaced by JD Sports the following year (after a brief 3 month sponsorless hiatus).
Oldham's adventures in the Premier League lasted only for two seasons before the club were relegated (despite a cracking 93-94 FA Cup run) and, like Bradford City (as featured in an earlier Kit Cupboard post) they have struggled to return to the top flight.
Worn in: Numerous astonishing wins in the 92-93 campaign: 1-0 over Manchester United, 3-2 versus Liverpool, 6-2 over Wimbledon, 4–3 versus Southampton and 5-3 against Nottingham Forest. Despite these amazing results, the club only narrowly avoided relegation that year!
Worn by: Neil Pointon, Nick Henry and Darren Beckford.
Look out for a True Colours Oldham Athletic kit history – coming soon!