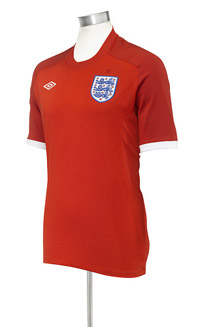 Any reader of True Colours will know how much interest I have in the symbolism and importance of a good looking kit and the power of colour theory. Although I am a massive fan of the current England home shirt, it doesn't seem to have brought the side much in the way of good fortune in South Africa. With the game against Slovenia now proving make or break for Capello's team I can't help but wonder if the fact that England will be wearing their red away kit in the match will have any bearing on the performance?
The spirit of '66 is definitely required now if England are to lift themselves out of what has been a torrid tournament so far for them and the latest away shirt is the closest recent design to the jersey sported by Bobby Moore and the rest of team when England last won the trophy.
Could this fact and the proven significance of red as a sporting colour help inspire the team to do the business on Wednesday?